Glasgow Women in Physics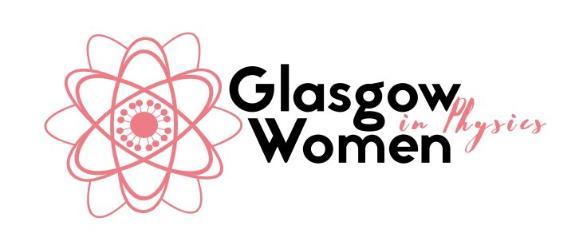 Glasgow Women in Physics (GWiP) aims to promote a welcoming and inclusive environment for all in our regular events covering science, work and life. GWiP is run by students and staff working within the department and we organise informal events in the lunchtime talks format.
We are proud of achieving an excellent gender balance in our open-to-all events and a varied audience ranging from undergrad students to our head of school. Our speakers are equally varied and cover important topics such as career advice from inside and outside of academia, work life balance and, of course, physics. The talks have enhanced the experience of everyone working and studying in our school through informal interaction with peers, mentors, and role models.
Join us on our microsoft teams, watch out for posters in the School corridors or better join us at our next lunchtime talk (in the P1 labs) the Kelvin building to be informed of upcoming events! For more information or if you have any questions or ideas for future events contact caroline.muellenbroich@glasgow.ac.uk.
**Everyone is welcome**
The Conference for Undergraduate Women and NB Physicists