Dental School early career researchers awarded free membership of the International Association for Dental Research (IADR) for 2015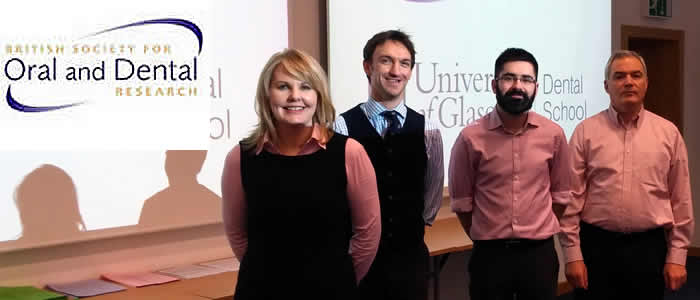 Five early career researchers from the Dental School, University of Glasgow have been awarded one-year free membership (worth $200.00) for 2015 of the International Association of Dental Research (IADR). The five recipients of the awards were:
Mr Nicholas Beacher, Clinical Lecturer
Mr Jamie Dickie, Clinical Lecturer
Dr Victoria Hannah, Clinical Lecturer
Mrs Christine Park, Clinical Lecturer
Dr Jennifer Malcolm, Research Assistant
As part of its part of its strategy to further enhance interaction and engagement with UK dental schools, the British Division of IADR (British Society for Oral & Dental Research [BSODR]) offered five awards to each of the UK dental schools. The awards were made on behalf of BSODR by Dr Marcello Riggio (Honorary Secretary of BSODR and Senior Lecturer at the Dental School, University of Glasgow).
The major mission of BSODR is to advance research and increase knowledge for the improvement of oral health in the UK. In addition, BSODR also supports and represents the oral research community in the UK and promotes international research collaboration through IADR and its federations. BSODR currently has approximately 550 members.
Pictured (from left to right) are: Dr Victoria Hannah (award recipient), Mr Nicholas Beacher (award recipient), Mr Jamie Dickie (award recipient), Dr Marcello Riggio (Honorary Secretary, BSODR)
---
First published: 25 February 2015