Night at the Museum of Anatomy - The sequel
Issued: Thu, 01 Aug 2019 15:49:00 BST
Over 120 enthusiastic attendees enjoyed an evening of unique demonstrations and interactive displays as the Night at the Museum of Anatomy: Past, Present and Future event returned by popular demand on Thursday 31 January 2019.
A collaboration between the Royal College of Physicians and Surgeons of Glasgow, the Clinical Anatomy Skills Centre, the University of Glasgow's Anatomy Facility, the Hunterian Museum, and the School of Simulation and Visualisation, the inaugural event was staged last September.
Such was the popularity of the night that the decision was taken to offer a further opportunity to experience this very special assembly charting how we have have visualised, studied and taught human anatomy over the centuries.
The event, opened by Professor Paul Rea and Professor Fabio Quandamatteo and staged between the Thomson Building and the Museum of Anatomy, featured a number of stands covering the following areas:
Hunter and Cleland Specimens (Ianto Jocks)
An exploration of unique historical anatomical specimens dating from the 1700s and 1800s and the collections of William Hunter and John Cleland, renowned anatomists from the 18th and 19th centuries, respectively.
Sir William Macewen - Innovation in Surgery (Dr John Shaw Dunn)
A former Regius Professor of Surgery at the University of Glasgow, attended learned how one of Glasgow's most influential surgeons taught pioneering concepts in neurosurgery, orthopaedics, and forensic medicine in the 19th and 20th centuries.
Plastination (Dr Eilidh Ferguson and Dr Ourania Varsou)
Specimens of the human body preserved by this very special technique, which was invented in the late 1970s and enablied us to preserve specimens for use in teaching and research, were available to view.
Clinical Anatomy Skills Centre (Ian Colquhoun)
A joint partnership between the University of Glasgow and the Royal College of Physicians and Surgeons of Glasgow supported by the William and Elizabeth Davies Charitable Foundation, this exhibit showed how surgeons, medical professionals and dentists are trained in the modern world of simulation training utilising the cadaveric resources of the West of Scotland Donation Programme.
Visualising Medical Heritage Project (Colleagues from the Royal College of Physicians and Surgeons of Glasgow)
This project brought medical history to life, particularly Glasgow's rich medical history and the major role that Glasgow practitioners have played in advancing healthcare practice, by enabling enhanced access to our museum collection through cutting-edge visualisation technology.
Felt Anatomy and Anatomical Body Painting (Catherine MacRobbie)
One half of this fun-filled station gave attendees an opportunity to revisit their childhood by creating their own tactile felt anatomy figures, with all the major organs and body parts.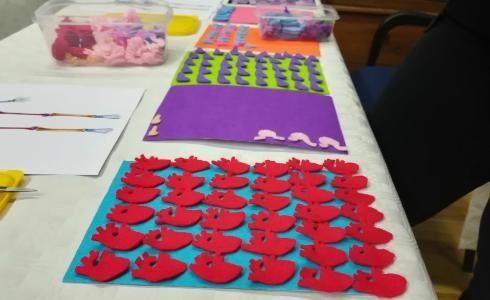 The other half used body painting to help in the understanding of human anatomy through artistic methods. This was part of Art-Beat, Art & Anatomy Edinburgh, an association of Anatomy@Edinburgh link medical students and the public to local medical professionals and artists.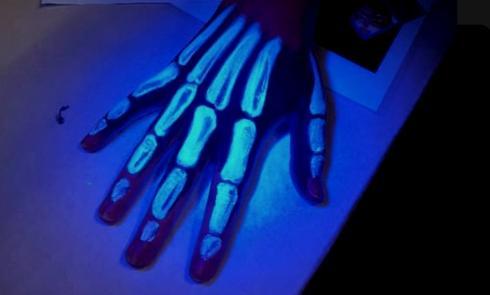 Medical Visualisation and Human Anatomy (Dr Matt Poyade and Dr Jordan Trench)
Through the joint MSc programme in Medical Visualisation and Human Anatomy with the Anatomy Facility, School of Life Sciences in the University of Glasgow, the Glasgow School of Art's School of Simulation and Visualisation empowers postgraduate students from different academic backgrounds to creatively develop their own technologically based framework to the domain of life sciences. In this unique Masters programme, students are given the opportunity to explore the use of immersive and interactive technologies while building up anatomical knowledge.
The feedback has been overwhelming positive. So much so, in fact, that Professor Rea is already looking to the future. He said: "I would like to thank all staff and those who attended. It was such a successful night, and we look forward to the next one!"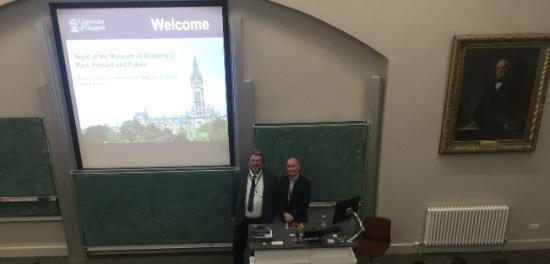 ---