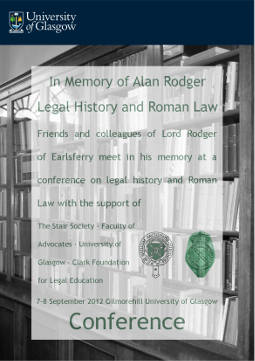 In Memory of Alan Rodger: A Conference on Legal History and Roman Law
On 7-8 September 2012, friends and colleagues of Alan Rodger met in his memory for a conference on legal history and Roman law. The conference was organised by Ernest Metzger, Douglas Professor of Civil Law in the University of Glasgow, and David Johnston QC, Axiom Advocates, Edinburgh. There were presentations on the Friday afternoon and Saturday morning, and a reception and dinner on the Friday evening. Dr Donal Bateson, Reader in Numismatics, was present at the reception and spoke about the collection of Roman Antiquities in the Hunterian Museum. Sir David Edward, formerly of the European Court of Justice, now sitting in the Court of Session, was present at the dinner and spoke about Alan Rodger's correspondence, from his days in Oxford to shortly before his death.
Most of the papers given at the conference were subsequently published in A. Burrows, et al., eds., Judge and Jurist: Essays in Memory of Lord Rodger of Earlsferry (Oxford 2013).
‌‌Alan Rodger, Lord Rodger of Earlsferry, wrote on legal history and Roman law for more than forty years. He was a student of David Daube at the University of Oxford, and remained an active and engaged scholar even as he pursued a career as an advocate and in government, eventually serving as a Justice of the Supreme Court of the United Kingdom.
Programme
The programme is available from the menu to the left.
Photographs
Photographs of the conference are available from our Flickr site. Registered members are invited to leave comments.
Tributes and Bibliography
‌A list of tributes to Alan Rodger, with a bibliography of his works, may be found at IusCivile.com.