Joanna Wilson
Profile
Contact
j.wilson.2@glasgow.ac.uk
Room 108, 10 The Square, Glasgow, G12 8QQ
PhD Topic
"AI, War & (In)Humanity: Ancient Freedoms v Modern Dangers" (submission spring 2023)
Supervisors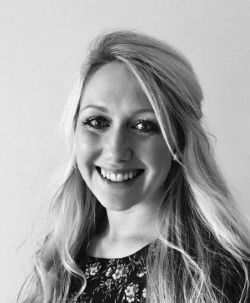 Biography
Joanna has been the Research and Teaching Associate for International Law since 2017. In this role, she conducts lectures, seminars, tutorials and assessment for a wide range of subjects across LLB and LLM levels, supports students (research and taught of all levels) in the extracurricular activities offered by the School and assists with International Law guest speaker events. She coordinates the annual LLM trip to Geneva and coaches the Glasgow Team for the Jean Pictet International Humanitarian Law Competition.
Joanna holds a First Class MA(Hons) International Relations and Spanish from the University of St Andrews, and LLM International Law and Security with Merit from the University of Glasgow, and since 2018 has been an Associate Fellow of Recognising Excellence in Teaching (RETAF).
She is also a part time professional cellist and performs regularly with ensembles an orchestras at national and international level.
Research Interests
Peace and Conflict Studies, International Security Studies, International Humanitarian Law, Law and Technology, Law and Morality, and Critical Approaches to International Law.
Publications
Research outputs
"AI and (In)Humanity: Lowering the Barriers of Entry to War" Target publication(s): Journal of Conflict and Security Law; Journal of International Peacekeeping
"AI, (In)Humanity, Human Dignity & Meaningful Human Control" Target publication(s): International Review of the Red Cross; Journal of International Humanitarian Legal Studies
"Ancient Freedoms v Modern Dangers: Lethal Autonomous Weapons Systems and the Future of IHL" Target publication(s): European Journal of International Security (EJIS); Review of International Studies (RIS)
"Update: The 2022 UN CCW Group of Governmental Experts (GGE) on Lethal Autonomous Weapons Systems (LAWS)" Target publication: International Committee of the Red Cross 'Humanitarian Law and Policy'; EJIL Talk!
"AI-Enhanced Cyber Operations in Armed Conflict: Exposing the Insufficiencies of International Humanitarian Law as an Equitable Regulatory Framework for Data Governance." Handbook for Regulating AI and Big Data, (Elgar, 2022/23)
Article: "In discussion: Joanna Wilson - Postgraduate Network Chair: Me, My research, BISA PGN." British International Studies Association, (29 September 2021). (https://www.bisa.ac.uk/members/pgn/articles/discussion-joanna-wilson-postgraduate-network-chair)
Law and Morality of Lethal Autonomous Weapon Systems." Jus Cogens International Law Podcast, (29 March 2022). (https://anchor.fm/jus-cogens-podcast/episodes/Law-and-Morality-of-Lethal-Autonomous-Weapon-Systems-Ft--Joanna-Wilson--36--JC-e1gej7c)
"New Military Technologies and (In)Humanity Throughout History" Target publication(s): Journal of the History of International Law; Journal of Military History
"LAWS, Laws, and the Barriers of Entry to War," Glasgow Law Post Graduate Conference (May 2019)
"Just War Theory and Lethal Autonomous Weapons Systems," Inaugural Edinburgh-Glasgow International Law Workshop (Apr 2019)
"Ancient Freedoms v Modern Dangers", British International Studies Association, BISA-ILAW Workshop, University of Glasgow (Nov 2018)
"Killer Robots and the Future of IHL", Security and Justice in the Age of Killer Robots, Senator George J. Mitchell Institute for Global Peace, Security and Justice, Queen's University Belfast (June 2018)
"Lethal Autonomous Weapons Systems: The End of Humanity International Humanitarian Law?"

BISA (British International Studies Association) Conference 2018, (Bath, June 2018)
Robophilosophy 2018/TRANSOR 2018 (Vienna, Feb 2018)
Artificial Ethics: Moral and Practical Challenges, University of Southampton Department of Philosophy (Dec 2017)

"(L).A.W.S., Laws and Just War: Killer Robots and the Future of IHL", British International Studies Association, BISA-ILAW Workshop, University of Edinburgh (Sep 2017)
"Imperialism by another name? Questioning the Legal and Moral Prerogative of the United Nations to Establish International Territorial Administrations", Archbishop Desmond Tutu Centre for War and Peace Studies Conference (Liverpool, July 2017)
"(L).A.W.S., Laws and Morality: A Critique of (Lethal) Autonomous Weapons Systems using Just War Theory", North East PGR Law Forum (Newcastle, June 2017)
Teaching
Masters (LLM)
International Law & Security, University of Glasgow, 2016-2017, 2017-18, 2018-19, 2019-20, 2021-22, 2022-23

Lecturer: Lethal Autonomous Weapons Systems; Sanctions; Arms Control and New Military Technologies
Assessment

International Criminal Law, University of Glasgow 2022-23
The Laws of Armed Conflict, University of Glasgow, 2016-2017, 2017-18, 2018-19, 2019-20, 2021-22

Lecturer: Lethal Autonomous Weapons Systems; Distinction, Proportionality and Precautions; New Military Technologies
Assessment

Clinic: Human Rights and Humanitarian Law in Practice, University of Glasgow 2018-19, 2019-20, 2022-23

Tutor & Assessment Supervisor

The Foundations of International Law, University of Glasgow, 2018-19, 2019-20

Assessment
Lecturer: Piracy and Maritime Safety; Drug Trafficking

Transnational Crime and Counter-Terrorism, University of Dundee, 2018-2019
Undergraduate (LLB)
Honours Dissertation Supervisor, University of Glasgow, 2018-19, 2019-20
Public International Law, University of Glasgow (Level 1), 2017-2018, 2018-19, 2019-20, 2022-23

Tutor
Lecturer: Jurisdiction; Use of Force; Human Rights; State Responsibility
Assessment

UN Law (Honours Level), University of Glasgow, 2018-19
Advanced International Law (Level 2), University of Glasgow, 2017-2018, 2018-19
Obligations 1A (Level 1), University of Glasgow, 2017-2018
Additional information
Esteem
Equality, Diversity and Inclusion Committee Member, School of Law, University of Glasgow, 2021-present
Founder and Coordinator, Annual Glasgow Law Postgraduate Conference, 2017-Present
Founder and Convenor, Glasgow Artificial Intelligence Working Group, 2018-Present
Programme Committee Member, European Society of International Law Research Forum, 2021-2022
Chair, British International Studies Association Postgraduate Network, 2021-2022
Organising Committee Member, Climate Law and Governance Day at COP26, 2021
Learning & Teaching Inclusivity Working Group, School of Law, University of Glasgow, 2019-2020
Undergraduate Admissions Policy Working Group Member, School of Law, University of Glasgow, 2019-2020
Vice Chair, British International Studies Association Postgraduate Network, 2019-2020
Guest Lecturer, "AI at War," Strategy and Security Society Special Lectures Series, School of Social and Political Sciences, University of Glasgow (June 2020)
Invited Participant, "LAWS, Laws, and the Barriers of Entry to War," International law in times of transformation, Centre for Global Constitutionalism, University of St. Andrews (November 2019)
Invited Speaker, "Trump and Autonomous Weapons," America First, Multilateralism and Human Rights, University of Dundee Politics and International Relations Department (June 2019)
Postgraduate Coordinator, International Law Working Group, British International Studies Association, 2018-2019
Academia
Assistant, Diploma in Professional Legal Practice, University of Glasgow, 2016-2017

Tutorials, Assessments, Administration

Wards Trust Research Assistant, Adam Smith Business School, Glasgow, 2016- 2017
Research Assistant in International Law, University of Glasgow, 2015-2017
Scholarship
Editing Assistant, European Yearbook of International Economic Law Book Reviews, 2017-2018
Drafting Assistant, Manual on International Law Applicable to Military Uses of Outer Space (MILAMOS) project, McGill University, 2017
Rapporteur, OUP International Organisations Project (OXIO), 2017
Peer Reviewer, eSharp journal, 2017
Internships
Global Rights Compliance, The Hague, 2017
Bingham Centre for the Rule of Law, British Institute of International and Comparative Law, London, 2016
Education
English Teacher and Activity Leader, St Andrews College Language Summer School, University of the West of Scotland, 2012-2014
English Language Assistant, IES Villajunco School, Santander, Cantabria, Spain (British Council/Spanish Ministry of Education), 2011-2012
English Language Tutor (Conversation/Examination Preparation), Santander, Cantabria, Spain, 2011-2012
Scholarships and awards
Rewarding Contribution Team Award, School of Law, University of Glasgow, 2018-2019
Prize for Most Outstanding Student, LLM International Law and Security, University of Glasgow, 2014-2015
University of St Andrews Deans List Award for Academic Excellence, 2012-2013; 2013-2014
University of Glasgow Stevenson Exchange Scholarship, 2011
University of St Andrews Colmenaros Prize for Most Industrious Student, 2010