Joanna Wilson
Profile
Contact
j.wilson.3@research.gla.ac.uk
Room 304, 10 The Square, Glasgow, G12 8QQ
PhD Topic
'(L)AWS, Laws and The Ethics of Autonomy: Questioning the Morality of the 'Killer Robot''
Supervisors
Professor Robin Geiss
Professor Christian Tams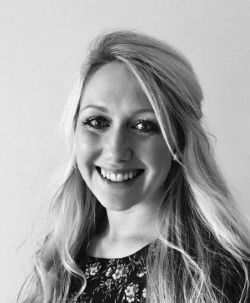 Biography
MA Hons (WIYA) International Relations and Spanish – University of St Andrews – 2009-2014
(With Integrated Year Abroad – English Teacher, IES Villajunco, Santander)
LLM International Law and Security – University of Glasgow – 2014-2015
Research Assistant, School of Law and Adam Smith Business School, University of Glasgow – 2015-Present
Research Assistant – Bingham Centre for the Rule of Law, British Institute of International and Comparative Law, London – 2016
Research Associate in International Law, Conflict and Security – 2017-Present
Research Interests
International Law and Security; International Humanitarian Law (Law of Armed Conflict); International Relations Theory; Peace and Conflict Studies; Rule of Law
Current Research Project Summary
Reiterating, and attempting to answer, a question posed by the ICRC: is it morally acceptable to vest a piece of machinery with the power to make life and death 'decisions'?
Is the legal treatment of robot warfare a morally viable activity?
Is regulation, however stringent, in itself a form of legitimisation or even condonation?
What constitutes morality and is there a place for it in International Law, International Humanitarian Law in particular?
Convener of International Law Working Group, 2016-Present
LinkedIn profile: https://www.linkedin.com/in/joanna-l-d-wilson-22445a107
Publications
Conference Papers
Security and Justice in the Age of Killer Robots, Senator George J. Mitchell Institute for Global Peace, Security and Justice, Queen's University Belfast (June 2018)
BISA 2018, (Bath, June 2018)
Regulation of Artificial Intelligence Workshop, Surrey Centre for Law and Philosophy (Mar 2018)
Robophilosophy 2018/TRANSOR 2018 (Vienna, Feb 2018)
Artificial Ethics: Moral and Practical Challenges, University of Southampton Department of Philosophy (Dec 2017)
BISA-ILAW Workshop, University of Edinburgh (Sep 2017)
Archbishop Desmond Tutu Centre for War and Peace Studies Conference (Liverpool, July 2017)
North East PGR Law Forum (Newcastle, June 2017)
Awards
2009/10 – Colmenaros Prize, University of St Andrews
2011/2 – Stevenson Scholarship, University of Glasgow
2012/3 – University of St Andrews Deans List Award for Academic Achievement
2013/4 – University of St Andrews Deans List Award for Academic Achievement
2014/5 – Award for Most Outstanding Student, LLM International Law and Security, University of Glasgow
2015 – Wards Trust Research Assistant, Adam Smith Business School , University of Glasgow