First research locating exact site of Battle of Bannockburn presented
Issued: Tue, 24 Jun 2014 14:53:00 BST
Dr Tony Pollard, one of the leaders of the first successful research project to locate the exact site of the Battle of Bannockburn, will present his findings at a public lecture at the University of Glasgow this evening (24 June), at 18:00.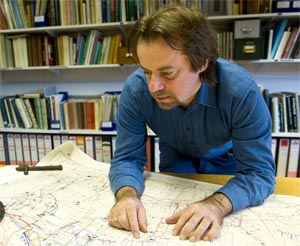 Dr Pollard presented the recent BBC 2 programmes 'The Quest for Bannockburn', alongside historian Neil Oliver, in which they presented the findings of a two year research project to locate one of Britain's most famous battlegrounds. Using archaeological finds, historical accounts and 3D imaging, they succeeded in shedding new light on just how Robert the Bruce achieved victory against the odds in one of the most famous battles in British history.
This lecture will also cover elements of the project which did not appear in the television programmes, including investigations at Cambuskenneth Abbey. The conclusion will sum up what we now know thanks to the project and make suggestions as to how we might set about learning more.
By analysing various Medieval artefacts, including a cross pendant which would have hung from a medieval horse harness, Dr Pollard and the team narrowed down the possible location to the Carse, which is the low flatland where the Bannockburn meets the River Forth.
The lecture will commence with an introduction to the context of the conflict, the technology and the tactics used by both sides. It will then review the various arguments for the location of the battlefield, which will include reference to contemporary or near contemporary accounts
Dr Pollard said: "This has been an incredibly exciting project to be involved in. It has taken almost two years to get to this point, but now we are confident enough in our findings to be able to use physical evidence to pinpoint the exact location of the battle for the first time."
---