All aboard! Report on PGR mini-conference
On 24 November 2020 IHW hosted a mini-conference for postgraduate research students, the highlights of which our PGR team now share with us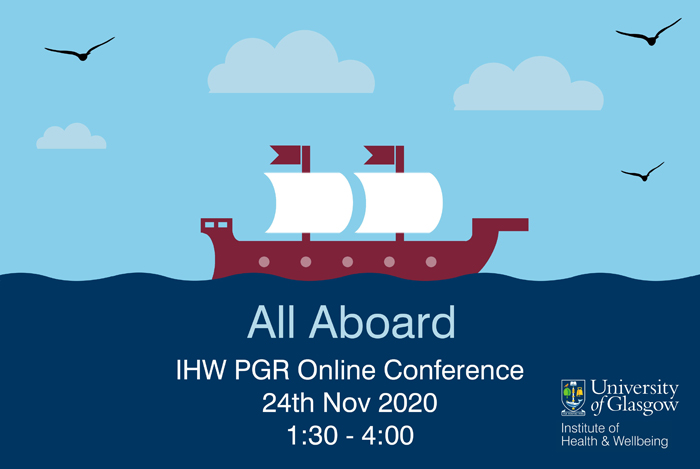 A huge thank you to everyone for their hard work in preparing for the PGR All Aboard! conference. We reached 38 participants during the first two sessions, which is a great number for our first online 'mini-conference'.

IHW's Prof Kate O'Donnell gave a great overview of the institute and conveyed the value of PGR students in IHW. Dr Sara Macdonald presented a useful reminder of the importance of planning research for impact.
Past IHW PhD students, Dr Ruth Agbakoba and Dr Katie Gallacher shared their experience as PhD students at IHW and their transition to industry and academia on their talks "My Glasgow PhD journey: an academic passport to the world" and "PhD life and beyond". We are very grateful to both for sharing their insights and showing us a glimpse of the many possibilities that arise after finishing a PhD. Huge thanks to the student representatives Fanny Petermann Rocha and Ryan Fields and a special mention to Solange Parra who put together a very helpful slideshow for the 15-minute break.

The students were all very positive about the event and we received great feedback:
"It was nice to have the opportunity to present since all my conferences were either cancelled or I had to remove my submission due to COVID delays."
"We all really enjoyed the session and thought that the keynote speakers (and the chairing of them) were spot on! Student presentations were excellent and very interesting too."
Thanks to everyone who joined us - we're looking forward to our next session!
Emma McIntosh (PGR Convenor)
Andrew Gumley (Deputy PGR Convenor)
Paula Olmo (PGR Administrator)
---
First published: 1 December 2020