Making neurodiversity work: reporting back from 'Supporting Neurodiversity in the Workplace' event
In October 2019, IHW and Mental Health and Wellbeing's Ewelina Rydzewska attended the Diverse Workforce Series event 'Supporting Neurodiversity in the Workplace' in London, on behalf of our Athena SWAN Self Assessment Team, and reports back below.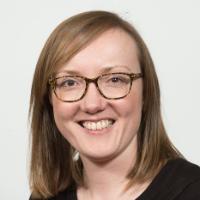 This one-day event brought together people from both industry and academia, featured presentations from Auticon Ltd, Adjust, Loch Associates Group, HMRC, National Autistic Society and NHS England Disability and Wellbeing Network (DAWN), and was chaired by a Diversity and Inclusion Specialist.
The umbrella term of 'neurodiversity' includes, but isn't limited to, impairments, conditions and difficulties such as autism, dyslexia, dyscalculia, ADD, ADHD and OCD. It is a term used to describe a set of differing skills profiles. It is estimated that 1 in 7 people in the UK is neurodiverse. Even though neurodiversity is so common in the British population, with 10% experiencing dyslexia, 5% dyspraxia, 4% ADHD and 1% autism, the likelihood of being employed is still lower in these groups. For example, there are currently around 700,000 autistic people in the UK, but only 16% of them are in employment. The Scottish data show that this proportion may be even higher.
The advantage is that my brain sees and puts information in my head differently, more interestingly, than if I saw it like everyone else. (Whoopi Goldberg)
Several speakers touched on particular strengths neurodiverse people may exhibit in a workplace environment. These often include highly developed pattern recognition skills, attention to detail, high standards for quality of produced work, sustained levels of concentration, predisposition to logical analysis and error detection as well as highly specialised interests and expertise.
However, much of the focus of the day was placed on challenges experienced by neurodiverse people in a professional context. These often stem from social interaction and communication preferences, which differ from those of neurotypical (non-neurodiverse) employees, for example favouring a factual and logical approach to communication or having difficulties with understanding unwritten social rules and norm. Comorbid mental health difficulties and physical environment of one's workplace can also pose additional challenges.
I like to feel useful. Society is made up of people who make something bigger than themselves. And that means work. That means being able to contribute to a shared idea. (Tom Cowley, Auticon Consultant)
Why does it matter that we get things right for neurodiverse employees? Neurodiverse staff follow exactly the same employment lifecycle as all other employees: attracting - recruiting - assessing - onboarding - retaining. If disclosing one's neurodiversity in their workplace is not met with understanding or followed by reasonable adjustments, we risk losing not only the employee and the investment we make in their professional development, but also their potential for being an incredible asset to the wider institution.

There are many ways in which we can adapt our recruitment and retention practices to make sure they meet the needs of neurodiverse staff. Some of them include:
neurodiversity training for all staff
attracting talent with positive neurodiverse models
introducing buddy or mentorship schemes
encouraging applicants to communicate about their condition from the start
following accessibility guidelines on the institution's website and promotional materials, using clear job adverts with targeted roles by eliminating unnecessary skills from the job description
considering alternative candidate attraction channels as well as providing a clear point of contact and quiet spaces for neurodiverse candidates and employees.
If you are interested in being a neurodiversity role model for the Institute of Health and Wellbeing, or if you would like to discuss any issues related to neurodiversity in the workplace or learning environment, please contact IHW Athena SWAN Champion Cindy Gray or IHW Head of Admin Asha Costigan.
---
First published: 14 March 2018