Welcome to new colleagues
A very warm welcome to the following colleagues who have joined or moved to a new post within IHW in recent weeks. We wish you well in your new role!
New staff
Thu Thuy Phan (SPHSU) Research Assistant working with Dr Gillian Fergie on the ESRC-funded Creative Insights project exploring young people's perspectives on health inequalities.
Victoria Ferguson (Public Health) Administrative Assistant
New PGR students
If you have recently joined IHW as a staff member or PGR student and are not listed above, apologies - do let us know and we will add your name to next month's "Welcome" page!
‌New colleague coffee mornings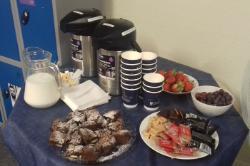 All new staff and students are welcome to join us at our quarterly new staff coffee mornings, which are usually held in Public Health (1 Lilybank Gardens).
If you have recently joined the institute, and haven't yet attended, you will receive a specific invitation in due course. Do please join us at one of these friendly, informal events, for tea/coffee, fruit and homebaking, and an opportunity to chat with other new staff and students, and meet IHW director, Jill Pell, and the IHW admin team, Asha Costigan, Audrey Dickie and Jane Goodfellow.
Dates and times of future events are available here.
---
First published: 15 May 2018