GPPC researchers take part in Curiosity Live
Published: 28 June 2018
GPPC researchers participated in the Curiosity Live event at the Science Centre. They engaged with visiting families about treatment burden and healthy choices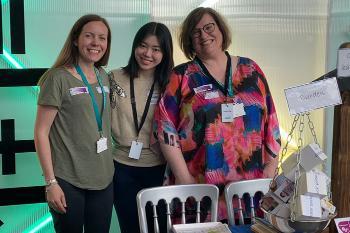 Visitors to the Glasgow Science Centre discussed treatment burden and healthy choices with IHW researchers as part of Curiosity Live in June 2019.
Katie Gallacher, Selina Wu and Yvonne Cunningham (L to R) from General Practice and Primary Care used a set of giant scales to talk to families about treatment burden. Treatment burden is the work people need to do to manage their illnesses.
On one side of the scales were 'weights' representing treatment burden, these were balanced by 'capacity' weights on the other side. Burden-weights included things like multiple appointments and form-filling, while capacity-weights included things like good public transport and strong friendship networks. The activity lead to good discussions with children and adults as visitors to the stand came up with their own ideas to increase the capacity side of the scales.
The stand at Curiosity Live is one of the many public engagement activities which have been carried out by GPPC researchers in the past six months. Others included: working with mini-researchers for STEM-Week at Motherwell Cathedral School; having researchers at The Forge talk to shoppers about the health risks of watching television and not getting enough sleep; and talking to shoppers in IKEA about treatment burden.
---
First published: 28 June 2018