Seeking asylum during a pandemic: a personal commentary from Kate O'Donnell
The COVID-19 pandemic has highlighted many inequalities in our society. Those from a minority ethnic background are at greater risk of being infected, being hospitalised and of dying from COVID-19. Those living in poverty are also at increased risk. However, these are not mutually distinct groups – people from BAME communities are disproportionately represented in poorer areas. The intersection of ethnicity, poverty, gender, and ill-health are well recognised.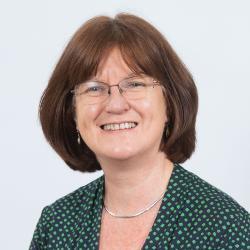 Living with COVID-19, as a society, is exacting a high price, financially and emotionally. Strategies to reduce the transmission of COVID-19, particularly lockdown, being encouraged to work at home and suggestions to avoid public transport, are easier to cope with if your home circumstances are good and your employment is suitable for home working. Imagine how you deal with all of this when living on £37.75 per week, the current payment an adult seeking asylum receives in the UK. Worse, if your claim has been rejected, you have no recourse to public funds, and so have to eke out a life with no money or accommodation.
Asylum support is the responsibility of the UK Government. So, despite a more positive rhetoric and policy responses designed to support the integration of asylum seekers into Scotland, decisions about support and accommodation lie outside the authority of Scottish Government. The decision by Mears to move over 300 people living in supported accommodation in Glasgow into hotels, and the removal of their meagre weekly allowance, was not something that a Scottish politician could prevent. That it had such tragic consequences was something that those working with asylum seekers in Glasgow had feared. The closure of many support services due to the pandemic added to the difficult situation faced by many.
Research within the University led by colleagues in the College of Social Sciences is trying to explore the impact of the pandemic on the lives of asylum seekers and those with refugee status. Within IHW, we are trying to ensure that the voices of asylum seekers – and organisations working with them – are included in our evaluation of public views of the Scottish Government's Test and Protect programme. I am also part of the Doctors of the World Expert Advisory Panel which has been campaigning for the abolition of NHS charges for asylum seekers and also highlighting the problems many asylum seekers are having in accessing timely and appropriate health care.
Going forward, we all need to learn a new way of living with COVID-19. This is also the case for those seeking asylum. Third sector organisations and charities, such the Scottish Refugee Council, Refuweegee and the Integration Networks in Glasgow are doing an amazing job of supporting people. If you want, you can contribute to their work for example by donating items, helping with deliveries or financial support.
Kate O'Donnell
Professor of Primary Care Research and Development
Institute of Health and Wellbeing
Refuweegee are now located in the old Fopp Shop on Byres Road. More information can be found at https://www.refuweegee.co.uk/covid19-response.
---
First published: 14 March 2018