Be the difference: reporting back from "Supporting LGBT+ colleagues" event
In July 2019, Caroline Haig (Robertson Centre for Biostatistics, and IHW SAT member) attended the Diverse Workforce Series' event "Supporting LGBT colleagues in the workplace" in Manchester.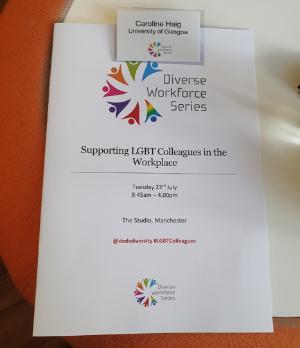 This one-day event brought together people from both industry and academia, featured presentations from Stonewall, NHS England, KMPG, Cardiff University, Greater Manchester Police, Diversity Marketplace, Pinset Mansions, and was chaired by an Inclusion and Diversity Consultant from Inclusive Employers.
The event began with some statistics that clearly highlighted the fact that there is a problem. For example, in one Stonewall survey, 38% of bi people were not out to anyone at work, only 23% of bi people had ever seen a visible bi role model in their workplace, and only 5% of organisations offered training that specifically covered issues faced by this population.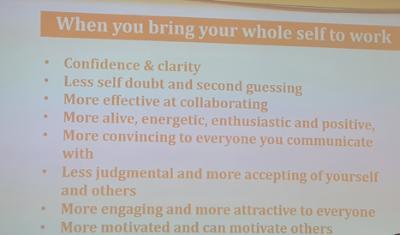 The question was raised, "Why does this matter? What does this have to do with work?", and this was answered frequently throughout the day. If an employee feels they have to withhold such a significant part of their life, they cannot be their authentic self at work. They must always be careful in casual conversations, for example, not to mention their partner's name. They may be anxious or afraid around chit-chat or "banter".
Much of the focus of the day was on visibility and role models, policies, and communication. Without visibility and role model statements, how can we expect LGBT+ staff or students to feel safe? What if the best person for the job is part of the LGBT+ community but applies elsewhere because there is no visibility on our webpages, or is there but can't be easily found?
"Be the difference to someone"
However, policies must stand alongside the rainbows. Simply wearing a rainbow lanyard or badge without being able to support colleagues or students in a practical manner is not effective. We must challenge "phobic" behaviour in order to change it.
So, what can senior management do to increase LGBT+ inclusivity? Visibility and communication! For example: We should celebrate calendar dates, such as Transgender Day of Remembrance (20th November), and emails from senior management about such events would clearly highlight that we, as an institution, care about LGBT+ issues and support LGBT+ people
We invite anyone interested in being an LGBT+ role model for Institute of Health and Wellbeing, or who would like to discuss any issues related to LGBT+ life in the university, to contact IHW Athena Swan Champion Cindy Gray or IHW Head of Admin Asha Costigan.
---
First published: 2 May 2018