Remembering Shahid Latif
Published: 14 March 2018
Following the sad death in March 2021 of Shahid Latif, a key member over many years of the Electrocardiology Group based in the Robertson Centre for Biostatistics, Professor Peter Macfarlane pays tribute to a valued colleague and friend
The Electrocardiology Group, which is part of the Robertson Centre for Biostatistics but based in the Royal Infirmary, was recently stunned to learn of the death of Shahid Latif on Wednesday 31 March 2021.
He had been ill for a few weeks but, nonetheless, his death from Covid-19 was a shock to all staff. Ironically, at the end of February on the day on which he took a test for Covid-19, which was subsequently found to be positive, his blue envelope arrived with a date for his first vaccination approximately two weeks later.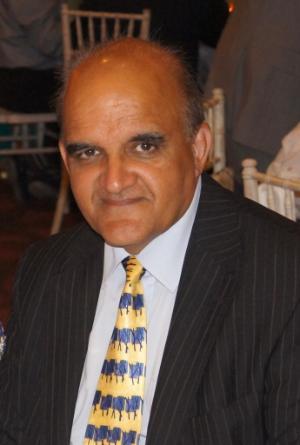 Shahid joined the group in the autumn of 1988, having graduated with a BSc (Electrical Engineering) from the University of Aberdeen and subsequently an MSc (Info Tech) as well as an MAppSci (Computer Science) from the University of Glasgow. He effectively took on the role of IT Manager, which was perfect timing in relation to the commencement of the landmark West of Scotland Coronary Prevention Study, in which over 6,500 middle aged males participated. ECGs were recorded on each participant annually for 5 years and transmitted to a central server, which Shahid managed. The ground breaking results on the benefits of statins were presented at the American Heart Association Meeting in Los Angeles in 1995.
The group acted as the ECG Core Lab for many national and international studies and Shahid was similarly responsible for ensuring that the databases of ECGs accumulated were maintained in good order. The studies included PROSPER, BRIGHT, the Whitehall Civil Servant Study, the British Regional Heart Study and more recently, the AIRWAVE Study as well as Cisco-19 and Covid-Heart, both of which enrolled patients with Covid-19. Shahid was proud of the fact that the equipment during his period in office was essentially 100% serviceable. Regular hospital power shutdowns for test purposes probably caused more trouble than anything else!
Outside of work, Shahid was happiest on the tennis court. At the time of his death, he was Director of Men's Tennis at the University Staff Tennis Club based at Garscube Estate, and in the past had been Secretary. His membership of the club facilitated the acquisition of tickets for frequent visits to Wimbledon, which he and his wife Fauzia enjoyed very much.
A colleague related the story of Shahid producing some bottles of Irn Bru, 1901 recipe, and giving one to each of the ECG IT team. Maybe that well known drink was his secret recipe for keeping his agility and strength at the net!
Shahid made friends with postgraduate students in the department and in particular Dr Ten-Fang Yang, who is now a Professor of Cardiology in Taiwan. When the latter visited Scotland, as he did frequently, Shahid was always pleased to show him some of the newer landmarks. Other Yang family members from Taiwan also visited and benefited from Shahid's generosity in showing them around different parts of the country.
Shahid's relatives are scattered around the globe, with some being in Pakistan and others in Western Canada. He and Fauzia enjoyed their occasional visits to these countries.
Fauzia would like to thank all of those who sent floral tributes and messages of sympathy, which were much appreciated.
Shahid's death represents a significant blow to his many friends and particularly colleagues who depended on his support for many projects. He has left a void which will be difficult to fill.
Professor Peter Macfarlane
Emeritus Professor and Honorary Senior Research Fellow
Institute of Health & Wellbeing
---
First published: 14 March 2018