Dr Amanda Owen
Lecturer in Earth Sciences (School of Geographical and Earth Sciences)
Research interests
My research focuses on understanding ancient fluvial deposits, more specifically trying to understand the heterogeneity and predictability of fluvial deposits over a variety of scales from the basin to pore scale. My research is primarily field based, where I study analogues (both ancient and modern) for application into the petroleum, minerals (uranium and cooper) and groundwater industries. Alongside my applied research I also look to understand the affect that external controls (such as climate and tectonics) have on fluvial systems as well as try and better understand vegetation response to changes in fluvial environments. My work is conducted through collaborative links at the University of Aberdeen, University of New Mexico, University of St Andrews and Universidade Federal do ABC and through the industry funded consortium Fluvial Systems Research Group (FSRG).
Understanding Fluvial Reservoirs
This strand of my research concentrates on:
Providing quantified predictive models of key characteristics within distributive fluvial systems based on extensive outcrop work in USA and Spain.
Understanding sandstone body architecture and connectivity variations within fluvial deposits to better predict subsuface fluid flow.
Documenting the fill of continental depositional basins to better understand facies and architecture variability associated with exploration of key resources.
Predicting the position of apecis in dispersive systems in order to create better palaeogeographic models.
Documenting the dimension and internal facies variations within terminal splay deposits.
Environmental Response in Fluvial systems
This strand of my research concentrates on:
Understanding the influence of key controls, such as tectonics and changing climate, on the nature of fluvial deposits, with particular emphasis on understanding the spatial variation to external controls.
Using vegetation changes to understand fluvial processes.
Research Awards
Roland Goldring Award, 2016. awarded by the British Sedimentological Research Group 2016 for 'recognising noteworthy published research in any field of sedimentology within 10 years of research career commencement'.
Supervision
Current research related supervision:
External to Univerisity of Glasgow:
(PhD) Justina Saroni. 'Fluvial architecture in shallow marine connected systems, Cretaceous, Western Interior Seaway, USA'. University of Aberdeen.
(PhD) Alistair Swan. 'Changing fluvial architecture across the Salt Wash DFS'. University of Aberdeen.
(Msc) Daniel Robertson.
Completed research related supervision:
(PhD) Do Thi Thuy Linh. 'Controls on the development and distribution of lateral and terminal splays in in modern and ancient fluvial systems'.
(Msc) Nicholas Swaffer. 'Analysis of heterogeneity in the Salt Wash Member fluvial deposits'
(Msc) John O'Brian. 'Fluvial bar form morphology and dimensions in the Castlegate Sandstone'.
(MSc) Harry Bloomfield. 'Comparison of outcrop and well data: predicting channel belt dimensions from the Salt Wash DFS, Morrison Formation, SW U.S.A'.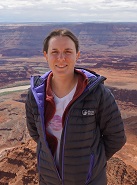 School oF Geographical and Earth Sciences,