GES to host International EGU Higher Education Teaching Workshop
Published: 19 May 2022
The School will be hosting a Higher Education teaching workshop sponsored by the European Geosciences Union on 20–22 July 2022.
Earth futures: Upskilling geoscientists for the green economy
The workshop will consist of six virtual sessions held over 3 days: 20-22 July 2022. Sessions will be devoted to important geoscience related topics with invited keynote speakers alongside talks, workshops, and posters delivered by workshop participants who have submitted an abstract or have expressed an interest in contributing.
Overview
The University of Glasgow invites Higher Education (HE) geoscience teachers to participate in the European Geosciences Union (EGU) sponsored Teaching Workshop. The workshop will provide a setting for interactive participation for discussion on new ideas and an arena for educators to share examples of their effective and inclusive teaching success.
This workshop aims to bring the international geoscience community together to discuss the future of geoscience teaching in HE, during a time when student recruitment into Geoscience related degrees is falling, globally. The urgency of current and future environmental challenges and the drive for a more sustainable future means that adaptations are needed to the traditional geoscience curriculum, so that graduates can help lead the way.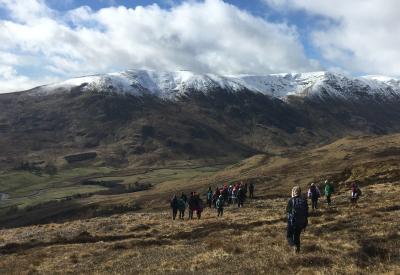 Our challenge, as geoscientists, is to address the perception of the 'geoscientist' role as a niche, masculine, physically elitist job that is all about the exploitation of Earth's resources. We need to demonstrate that geoscientists can play a valuable role in our society and provide unique solutions for natural hazards, renewable energies, water and food resources, nature conservation and tourism, all of which are related to UN Sustainable Development Goals (SDGs). As educators, we need to ensure that our students are equipped with the specific and transferable skills that will be sought after by employers in the private, public and third sectors.
This workshop provides an arena for geoscientists in HE to network and share best practice that increases the inclusion and diversity within geoscience subjects as we aim to make geoscience degree programmes fit for the future. The workshop, although open to all practitioners, is intended to engage with early career staff, who are often highly involved in the delivery of practical classes, in particular in fieldwork activities.
Covering themes such as sustainable industries, digital geoscience, environmental geoscience, fieldwork, and geoscience and society, the workshop will encourage active participation and small group discussions, to provide everybody with the opportunity to express their views, share their experiences and contribute towards solutions.
Registration and abstract submission
Registration to this workshop is free however, the number of participants will be limited to 60.
As the aim of the workshop is to provide a setting for active participation and discussion, the workshop organising committee would like to encourage geoscience teachers to share new ideas and examples of their teaching success.
For more information, please contact workshop administrator, Dr Eamon McKenna: Eamon.mckenna@glasgow.ac.uk
General schedule
+++
Wednesday 20 July
Plenary session 1: The future of Geoscience.
Session 1: Virtual teaching. What have we learnt fom virtual teaching and what should stay in post-Covid HE teaching. Examples of virtual field trips, laboratory, and teaching success.
Session 2: Sustainable industries. Preparing students for the green economy, including renewable energies and sustainable mining.
---
+++
Thursday 21 July
Session 1: Digital Geoscience. The new tools of a geoscientist.
Session 2: Environmental geoscience. Preparing experts for solving environmental issues.
---
+++
Friday 22 July
Session 1: Fieldwork: inclusive, affordable, environmentally friendly? The scope of virtual fieldwork in the post covid era.
Session 2: Geoscience and society. Integrating geology and society. Geoscience in the high school curricula?
---
Workshop organiser contacts
---
First published: 19 May 2022