Welcoming Languages
A University of Glasgow project that facilitated Arabic language lessons for staff in Scotland's primary schools has helped to make refugee children and families feel welcome in their local communities.
Welcoming Languages is a collaborative project that was carried out by an international team based at the University of Glasgow's College of Social Sciences and the Arabic Center of the Islamic University of Gaza (Palestine), and funded by the Arts and Humanities Research Council (AHRC, Grant Ref n. AH/W006030/1)
The project explored the inclusion of a 'refugee language' in Scottish education as a way to enact the idea of 'integration as a two-way process' that is at the heart of the Scottish Government's New Scots Refugee Integration Strategy.
Tailored Arabic language course for beginners were offered in 2022 to education staff in Scottish primary schools. 25 staff (teachers, head-teachers, family support staff, English as an Additional Language teachers, etc) took these up across 4 primary schools in the Glasgow City Council area: St Peter's PS in Whiteinch; Corpus Christi PS; Elmvale PS; St Francis PS.
Key outcomes and findings from the project included:
An event in December 2022 brought together participating leamers and academic and pupils to celebrate the positive impact that 'Welcoming Languages' has had in schools and wider communities. The final project report was launched, and the project team stressed that positive outcomes from the project show that increasing the number of languages taught and learned in Scottish education is possible and that it has positive impact on the whole school.
Project lead Dr Giovanna Fassetta, who is Senior Lecturer in Social Inclusion at the School of Education, said: "Arriving in a new country and learning its ways is daunting enough, and not having anyone who speaks your language makes the whole experience even more challenging.
"We wanted to see what would happen when we attempted to expand the languages that are taught and spoken in Scottish education, to include not just traditional languages but also those spoken by the so called 'New Scots' who have arrived in Scotland as refugees and are trying to make a new life here. Learning the languages spoken by those who make of Scotland their new home can be a very powerful way to show by the receiving community to show welcome and provide hospitality."
Dr Maria Grazia Imperiale (UofG) explained the crucial role of the needs analysis that aimed to identify the language that primary staff and Arabic speaking children and families thought should be included in the course, while international Co-I Al-Masri explained how the team of experts he led in Palestine designed and developed a tailored a beginner Arabic course that would take on board the needs identified.
Laura Goff, EAL director for Glasgow City council and a member of the project's steering committee said, "we have been very impressed by the enthusiasm and hard work shown by teachers in trying to learn Arabic - which is a difficult language to pick up on a beginner's basis!"
The positive impact of the project was highlighted by Co-I Lavinia Hirsu (UofG) who explained how Arabic learning on the part of education staff had shown both practical and symbolic benefits, allowing staff to communicate with Arabic speaking children and parents but, crucially, also showing that all languages are important and worthy of being learnt.
Participants at the event were keen to share their positive experiences and feedback.
"This was an opportunity to understand the emotional & cognitive load that learning a new language brings. … I did find it very helpful, and the children would smile when you said things like good morning to them in Arabic", said Mr Grant MacLeod, Head-teacher at Elmvale Primary and one of the project's Arabic learners.

Ms Elizabeth Khalil, specialist EAL teacher at Corpus Christi and a learner of Arabic in the project, added: "It was good for teachers to actually see how the children feel as well. If you're learning a European language, there are lots of similar words and you can work something out by reading it. These children can't do that…if we're embracing their language, it does make them feel a lot more welcome."
On the 2nd of February the Welcoming Languages project international team was hosted at the Scottish Parliament by Kaukab Stewart (MSP for Glasgow Kelvin) to hold an information session for MSPs. The Welcoming Languages project aims to expand the number of languages that have a place in Scottish education to also include the languages of the children and families that have had to flee from their countries and who have made Scotland their new home. During the event, MSPs showed great interest in the project and expressed their full support for it.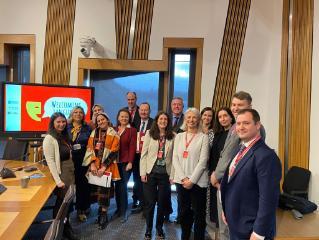 ---
First published: 19 January 2023