Dr Marcello Riggio appointed as President of the British Society for Oral and Dental Research (BSODR)
Issued: Tue, 24 Sep 2019 16:46:47 BST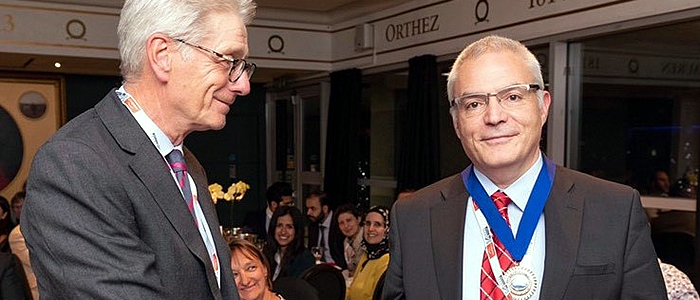 Dr Marcello Riggio (Senior Lecturer in Molecular Microbiology) has been appointed as President of the British Society for Oral and Dental Research (BSODR) for a period of two years. Dr Riggio was formally welcomed to the role by the outgoing President of BSODR, Professor Peter Robinson, in Leeds at the BSODR Annual Conference dinner on 4th September 2019.
As President of BSODR, Dr Riggio will also serve on the IADR Council, the Board of Directors of PER-IADR, the Board of Trustees of BSODR and the Board of Trustees of the Oral & Dental Research Trust (ODRT).
Dr Riggio has been a member of the BSODR Management Committee since 2009, BSODR Webmaster since 2012 and has served as BSODR Honorary Secretary since 2014, the latter role conferring responsibility for the day-to-day running of the Society. He will then serve as Immediate Past President of BSODR from 2021-2023.
BSODR is the fifth largest division of the International Association for Dental Research (IADR) with approximately 600 members and is also a member of the Pan European Region (PER) of IADR, a federation of European dental research divisions of IADR. The primary objectives of BSODR are to support and represent the oral health research community in the UK, to encourage junior workers to become involved in oral and dental research and to facilitate the dissemination and application of research findings relating to oral health and the interactions between oral and systemic health.
Further information on the activities of BSODR can be found at: www.bsodr.org.uk
---