Dental Student wins Royal Society of Medicine Poster Prize
Issued: Tue, 28 May 2019 14:12:00 BST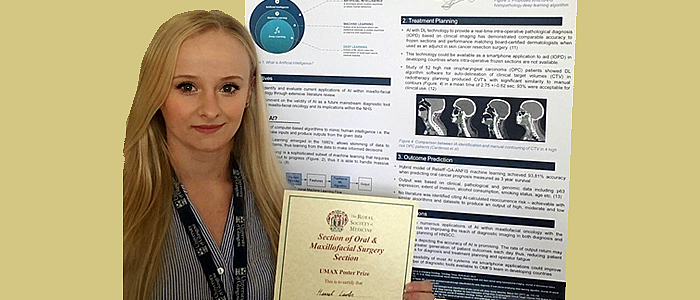 Dental Student Hannah Lawler won the Royal Society of Medicine, Section of Oral and Maxillofacial Surgery Poster Prize at a competition in London. The prize was open to single degree, dual degree, and junior OMFS trainee staff.
Hannah was required to submit a 200 word abstract summarising a project relating to any aspect of OMFS. 25 candidates were shortlisted and asked to present a poster at the RSM Undergraduate Maxillofacial Conference 2019. Hannah's poster, "Application of Artificial Intelligence in Maxillofacial Oncology: Opportunity or Hype?" took the 1st place prize.
Hannah said of her experience, "Overall, I had a fantastic day at the conference and learned a lot from the speakers and was particularly inspired by Mrs Shaikh's talk on 'Women in OMFS'"
---