Congratulations to Postgraduates at Winter Graduation 2017
Issued: Thu, 07 Dec 2017 16:19:00 GMT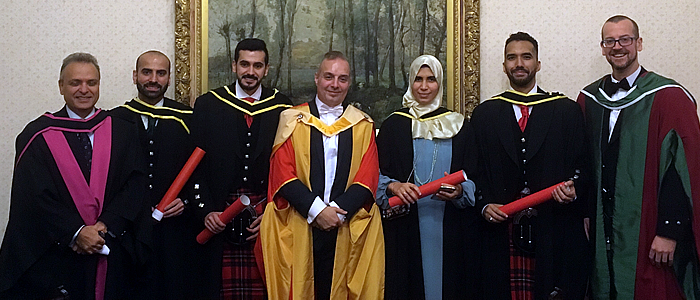 Congratulations to the Master of Science in Dental Science students who graduated on Monday 27th November during the Winter Graduation.
The class of 2017 were Sumaya Abusrewil (Endodontics), Haitham Al Barwani (Endodontics), Turki Almutairi (Oral and Maxillofacial Surgery), Adil Khan (Oral and Maxillofacial Surgery) and Christina Mariscal (Primary Dental Care).
Will McLean programme lead for the Msc(DentSci) in Endodontics said "The graduation was fantastic. The setting is magical. It has been a real honour to have been involved in their evolution as both students and clinicians. I was grateful to have been able to share this special day with them and their families. I look forward to following their careers into the future".
---