Congratulations to Jason Brown and Lorna Hopps
Issued: Fri, 12 May 2017 14:05:00 BST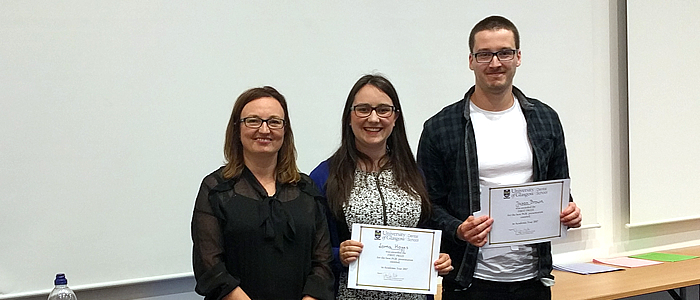 Six Postgraduate Research Students from Glasgow Dental School were selected to present their research projects to an audience of dental school staff on Wednesday.
Our judges, Prof Lorna Macpherson, Prof Gordon Ramage, Dr Shauna culshaw and Prof Jo-Anne Murray - associate Dean of graduate school - awarded Lorna Hopps and Jason Brown joint first prize.
Lorna's project was "The factors influencing the decision to proceed to patient notification following a dental decontamination breach: A Scoping Review", and Jason presented "The role of innate lymphoid cells in periodontal disease"
Well done to both and to all the students who presented on the day.
---