New Childsmile course introduced by Community Oral Health Group
Issued: Wed, 03 May 2017 10:37:00 BST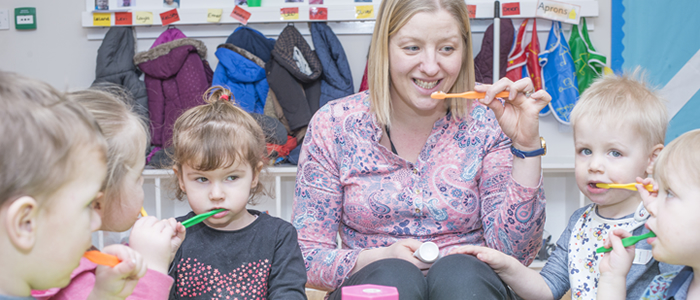 Dental decay is an almost entirely preventable condition. Despite this, it represents the most common disease among children in the UK and is the most frequent reason for children to require hospital admission for procedures involving general anaesthesia.
Historically, child oral health in Scotland has been among the worst in Europe, and by the late-1990's more than 50% of 5-year-olds in Scotland showed evidence of dental decay. To address this, Professor Lorna Macpherson and colleagues at our Dental School played a pivotal role in developing and evaluating Childsmile, a community-based oral health improvement programme.
Childsmile is delivered to all Scottish children from birth, and has delivered major improvements in child oral health.
A new 20 credit course has been introduced at the University of Glasgow Dental School which will be delivered by the Community Oral Health Group who are members of the Childsmile Evaluation and Research Team (CERT). This group of dental public health clinicians, researchers, behavioural scientists, epidemiologists and statisticians has extensive experience in oral health epidemiology and health improvement evaluation. Over the past 5 years they have developed a key interest in understanding and tackling oral health inequalities in child oral health, head and neck cancer, and adult oral health.
The Childsmile course will be of interest to individuals or organisations involved in public health, who would like to know more about how Childsmile, the national oral health programme for Scotland, successfully achieved sustained improvements in oral health within a generation.
The course is designed as a short introduction to understanding what may be involved in implementing a similar programme in the participant's own country/setting.
Find out more about the Childsmile course and apply now: www.glasgow.ac.uk/schools/dental/postgraduate/childsmile/
---