Glasgow students publicise the Big Smile Big Band Event
Issued: Wed, 14 Dec 2016 13:58:00 GMT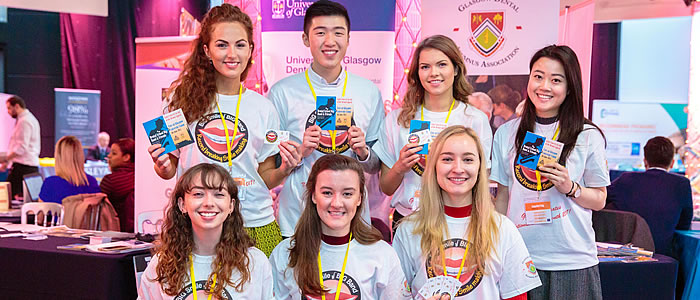 The annual FGDP (UK) Scotland Study Day was held at the Glasgow Science centre on Friday 9 December 2016. It was a tremendous success.
Thanks to the generosity of Conor O'Malley, the Director of the West Division of FGDP (UK) Scotland and the event organiser Andrew Miller, the BDS 5 Students from Glasgow Dental School were invited to lunch and an afternoon programme focusing on Tooth Wear, delivered by Professor David Bartlett from Kings College London.
The University of Glasgow Dental School, Glasgow Dental Alumnus Association and the Glasgow Oral Health Improvement Student Society (GOHISS) all had stands at the trade show. Seven BDS 5 students, all GOHISS members, played a role as hosts at the registration desk wearing T-shirts publicising the forthcoming Big Smile Big Band event. The team is shown in the photograph holding CDs of the Glasgow Dental School Big Band and other pieces of publicity material.
---