Recognition for Running Group Leader
Issued: Mon, 31 Oct 2016 14:44:00 GMT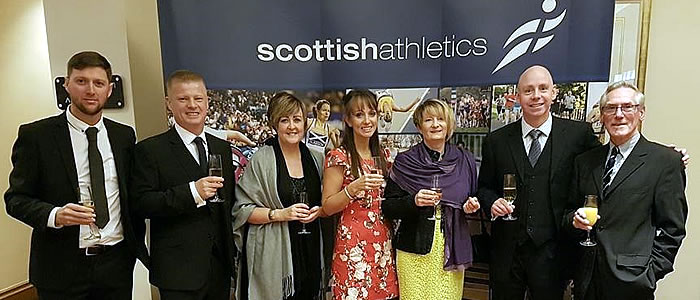 Neil Nairn was shortlisted for the prestigious award of JogScotland Leader of the Year in recognition of his hard work and dedication in leading the Glasgow Dental Hospital and School Runners group that he established in 2015 with Alison Cairns and Robert McKerlie. Neil attended the Scottish Athletics and JogScotland Annual Awards dinner held at the Glasgow Hilton hotel on Saturday 29th October accompanied by some members of the running group and Lackie Stewart. Although Neil did not win the Leader of the Year award he was delighted to receive the recognition of members of the group and had a very enjoyable evening.
Neil's nomination citation stated:
Neil is 100% committed to this workplace group – and has even been known to come into work on his days off so that members don't miss a run.
He gives incredible levels of encouragement to everyone, at every level, from jogging alongside complete beginners at their first session, to giving up his own races to accompany members and help them achieve PBs.
He is a very positive leader and never fails to give members' achievements a mention and a clap at each session.
His motto of "we leave together and come back together" sums up his enthusiasm for getting everyone involved.
Neil completed his JogScotland Leader training last year which all members of the group have benefitted from and he is about to embark on the Scottish Athletics Coach in Running Fitness (CIRF) Level 2 Course and with Robert McKerlie and Alison Cairns about to embark on the JogScotland Leader training, the running group is in very safe hands.
---