Glasgow student success at INSPIRE Special Event for Dentistry 2016 at Kings Dental School, London
Issued: Tue, 11 Oct 2016 15:37:00 BST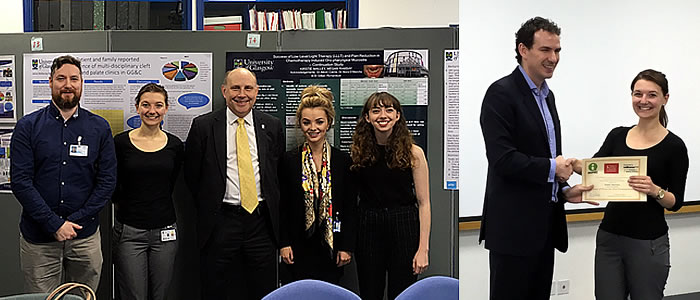 The INSPIRE programme is an initiative sponsored by the Academy of Medical Sciences and the Wellcome Trust to inform medical and dental students about academic medicine / dentistry and to encourage students to consider a career path in clinical academia. Glasgow Dental School strongly supports the initiative which is led locally by Dr Shauna Culshaw, Senior Clinical Lecturer in Periodontology.
A team of four students together with Prof Jeremy Bagg, Head of the Dental School, attended the INSPIRE Special Event for Dentistry 2016 that was organised by King's Dental School in London and held on Saturday 8 October 2016. In addition to some excellent lectures relating to academic careers, there were both poster and verbal presentations from students attending the meeting.
Final Year students James McMurray, Kirstie Malley and Lizzie Todd all presented posters based on their recent elective projects and Emily Davison (BDS 3) gave an oral presentation based on work undertaken during a summer laboratory placement working with Dr Culshaw. The students all gave an excellent account of themselves and Emily was one of three prize-winners from those giving verbal presentations.
Glasgow Dental School has agreed to organise and run the UK-wide event for dentistry in 2017.
---