Dental School staff and alumni participate in the Royal College of Physicians & Surgeons '5 Ferry Challenge' cycle ride for Malawi
Issued: Wed, 07 Sep 2016 10:34:00 BST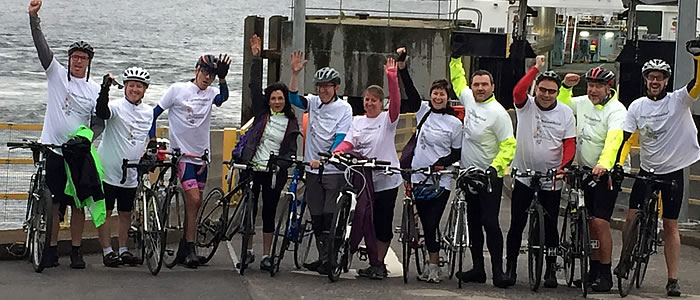 Glasgow Dental School has strong links with the Dental Faculty at the Royal College of Physicians & Surgeons of Glasgow (RCPS Glasg). The College is currently raising funds to support medical training in Malawi. Malawi is a country with which the RCPS Glasg has strong historical ties and a country which is in great need of medical facilities and training. Only 7% of the healthcare workforce in Malawi are trained physicians and surgeons. In order to receive emergency or specialist care patients often have to travel long distances to one of the country's four under-resourced and overcrowded hospitals.
As part of the fund raising activity, a team of 12 cyclists, led by the President of the RCPSG Professor David Galloway, set out on the '5 Ferries Challenge' around the Firth of Clyde on Saturday 6th September. Richard Welbury, Will McLean, Graeme Wright and Jeremy Bagg were part of the 12-strong team which successfully completed this challenge of 51 miles and climbs totalling 3500 feet, without missing any boats along the way.
The funds raised from the 5 Ferry Challenge will be used deliver surgical skills and train the trainer programmes in specific areas of Malawi. It will also be used to support future Malawian trainees coming to the UK to gain experience through the Medical Training Initiative (MTI).
If you would like to support the College's efforts in Malawi you can donate via their Just Giving page: https://campaign.justgiving.com/charity/rcps-glasgow/malawifund
---