Dental Student Success at Herald Higher Education Awards 2016
Issued: Wed, 20 Jul 2016 10:59:00 BST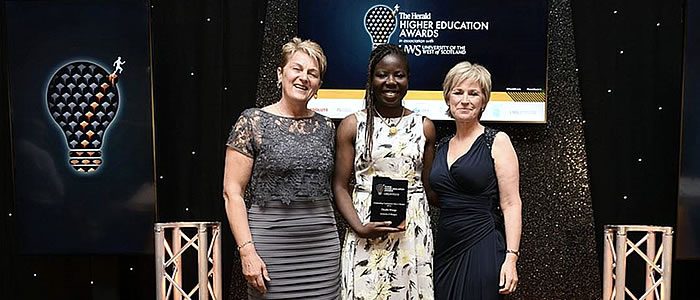 Claudia Wasige, who graduated BDS on July 1st 2016, was awarded the prize for 'Outstanding Contribution from a Student' at the Herald Higher Education Awards ceremony at the Radisson Blu Hotel in Glasgow on 14 July 2016.
This was the second year of this national competition, which is held in association with the University of the West of Scotland. The awards scheme was launched to recognise the outstanding achievements of colleges and universities. The large group of supporting organisations include Universities Scotland, the Scottish Qualifications Authority (SQA), Scottish Funding Council and City of Glasgow College. There are 12 categories which examine how institutions develop innovative materials and methods in teaching and research. The University of Glasgow had an exceptional night all round, winning seven awards in total, including the overall award for Higher Education Institution of the Year.
The criteria for the award of 'Outstanding Contribution from a Student' were as follows: "This award will go to a student who has made an outstanding contribution to the institution and wider community including work on or off campus. Judges will be looking for how this person has inspired and motivated others to act philanthropically or made efforts to improve student experiences and that of the local community. This student may also be specifically connected to a sport or leisure activity or one who has overcome hardship, disability or other personal adversity".
Throughout her undergraduate career, Claudia worked in a wide variety of areas linked to overcoming inequalities. This included the establishment of the Glasgow Oral Health Improvement Student Society (GOHISS) and its work in food banks and other public engagement activities which you can read about elsewhere in this issue. She also played a role in the University widening participation agenda and in education in Kenya, combined with her academic and sporting successes (University of Glasgow Womens' Tennis Champion). These outstanding contributions provided an exceptional basis for her entry in the competition.
Claudia will be maintaining her links with the Dental School and GOHISS as a Class of 2016 Alumnus. She will be completing her Vocational Training in Glasgow over the next 12 months and we look forward to her continuing contribution to the Dental School's public engagement activities.
---