Glasgow dental student reaches Final of Herald Higher Education Awards
Issued: Mon, 13 Jun 2016 15:23:00 BST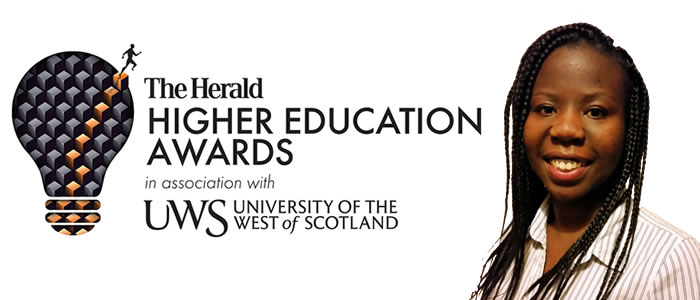 Final Year BDS student Claudia Wasige has been identified as a Finalist in the category 'Outstanding contribution from a student' in this year's Herald Higher Education Awards
This is the second year of the Herald Higher Education Awards, which are held in association with the University of the West of Scotland. The awards scheme was launched to recognise the outstanding achievements of colleges and universities. The programme is supported by Universities Scotland, the Scottish Qualifications Authority (SQA) and City of Glasgow College. There are 12 categories which examine how institutions develop innovative materials and methods in teaching and research. Other backers include technology provider Jisc, the Quality Assurance Agency for Higher Education Scotland (QAA), ABSOLUTE, Anderson Strathern and the Scottish Funding Council (SFC). There is a particular focus on aspects such as technology, employer partnerships, student support and community engagement. The University of Glasgow has finalists in many of the categories.
The criteria for the award of 'Outstanding contribution from a student' are defined as follows: "This award will go to a student who has made an outstanding contribution to the institution and wider community including work on or off campus. Judges will be looking for how this person has inspired and motivated others to act philanthropically or made efforts to improve student experiences and that of the local community. This student may also be specifically connected to a sport or leisure activity or one who has overcome hardship, disability or other personal adversity".
Claudia is one of five finalists from across Scotland in this category. The awards will take place at a gala dinner on Thursday, July 14 at the Radisson Blu Hotel, Glasgow, when Claudia will find out whether she is the outright winner.
If you would like to read more, please visit this link:
http://www.heraldscotland.com/news/14533788.Finalists_announced_for_The_Herald__39_s_Higher_Education_Awards/
---