Fifth Year Student Wins Local Heat of the RCSEd DENTSPLY Dental Skills Competition 2015/16
Issued: Thu, 21 Jan 2016 15:30:00 GMT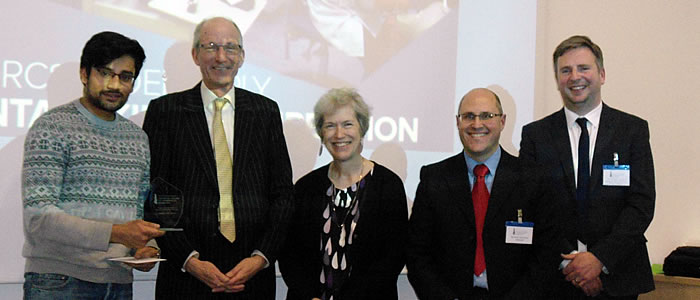 BDS 5 student Roshan Vasaiwalla has won the regional heat of the Royal College of Surgeon of Edinburgh DENTSPLY Dental Skills competition which was held in the Glasgow Dental Hospital on the 15th December 2015. Students Peter O'Keefe and Gabriele Baniulyte placed 2nd and 3rd respectively.
This was the 13th of 16 heats held throughout the UK, between September and December 2015 as part of the RCSEd DENTSPLY Dental Skills Competition. The idea for this competition originated from the College's Surgical Skills Competitions for medical students and follows the first Dental Skills competition held in 2013/2014. The Dental Faculty of the College consider it important to continue to offer the opportunities to dental students around the UK to compete against their peers and practice their skills in restorative dentistry. The competition receives the kind sponsorship and partnership of Dentsply - a renowned market leader in dental consumables with its products reaching over 120 countries worldwide. It has a long history of working in close partnership with the dental profession and academic institutions, investing heavily in research and development.
Following invitation, 23 students from BDS 5 elected to participate in the school-led heat. Students were asked to prepare a maxillary canine tooth to receive a porcelain fused-to-metal crown. The crown preparations were subsequently judged by Professor Richard Ibbetson, Director of Dentistry, The University of Aberdeen and Mr. Adrian Pace-Balzan, Senior Clinical Teacher & Honorary Consultant in Restorative Dentistry, Glasgow Dental School & Hospital. The competition was overseen by Dr. Sarah Manton, Vice-Dean of the Dental Faculty of the College, Dr. Michael Davidson, Professional Affairs Manager for Dentsply UK and Hannah Horsfield, representative of the College. Special thanks are due to Maryanne Ferguson and Violet Flannigan for setting up the clinical skills lab and supporting the students throughout the competition, Alison Cairns and David Watson for their help in including the competition into Graduate Attributes Week and last but not least Susan Wilkie and Jennifer Ramage for their secretarial support.
All students who participated in this heat received a certificate of participation for their professional portfolio and a year's complimentary affiliation with the College giving access to the online anatomy resource AclandAnatomy.com, discounted fees on courses and meetings, the option of an rcsed.net mailbox for use of their DF applications and quarterly copies of Surgeons' News.
We congratulate Roshan on his good work. He will go on to compete in the Grand Final in Edinburgh on 10th March 2016 to join the other Grand Finalists at a Council dinner in the historic Playfair building where the winner will be announced. The winner of the Grand Final will receive an expenses paid trip to one of DENTSPLY's Endodontic Academy "A-Z of Endo" events in Ballaigues, Switzerland. We wish him good luck!
Adrian Pace-Balzan Regional Heat Lead
---