The Battle With The Bacteria in Your Mouth
Issued: Mon, 10 Nov 2014 13:51:00 GMT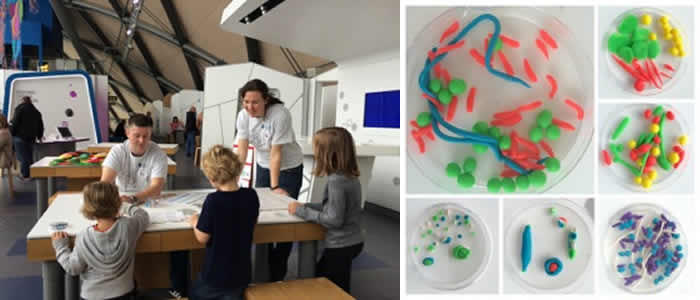 Meet the Expert Events at Glasgow Science Centre are an opportunity for Science Centre visitors to meet experts in their filed. During the half term breaks in February and October, post graduate students and staff from the Infection and Immunity Research Group, with petri dishes, Play-Doh, stickers and story boards spent the day with families discovering how bacteria live, what they do, and how your immune system fights to keep them under control.
Visitors created an amazing array of model bacterial biofilms from Play-Doh and left with a sticker of their favourite immune system cell to keep their new biofilms in check…
Thanks to Shauna Culshaw, Gordon Ramage, Chris Nile, John Butcher, Ana Adrados Planell, Lindsay O'Donnell, Lauren Campbell, Jessica Oliver-Bell and Emma Millhouse for making these events such a success.
---