Glasgow Dental Students Attend Universitas 21 Summer School
Issued: Tue, 19 Aug 2014 16:05:00 BST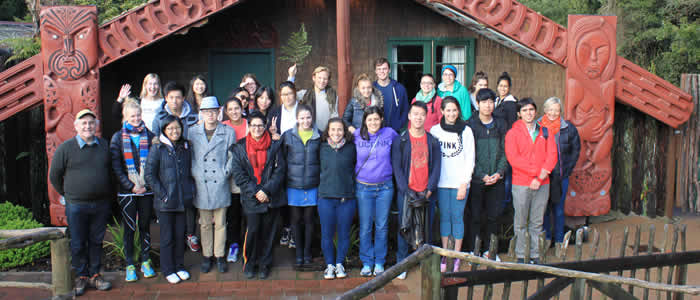 Rhiannon Swann-Price (second year dental student) and Lynda Macdonald (BDS graduate 2014) attended the inaugural Universitas 21 Health Sciences summer school hosted by the University of Auckland, New Zealand, from 6th to 18th July 2014. The two-week event brought together 26 students from 11 countries.
Experts from the University's Centre for Addiction Research, together with international guest speakers, delivered a comprehensive programme of lectures and group work exploring the topic of substance misuse.
Both students thoroughly enjoyed the summer school; concluding that the experience benefited them both in terms of their understanding of substance misuse & harm reduction in healthcare, and the opportunity to interact with a multidisciplinary international cohort of students.
As well as working hard, Rhiannon and Lynda took the once-in-a-lifetime opportunity to travel around New Zealand. Highlights included a visit to Hobbiton, whale-watching, and walking around a platform suspended from Auckland's 192 metre tall Sky Tower!
---