Professor of Medicine in Relation to Dentistry delivers inaugural lecture
Issued: Tue, 29 Jul 2014 16:06:00 BST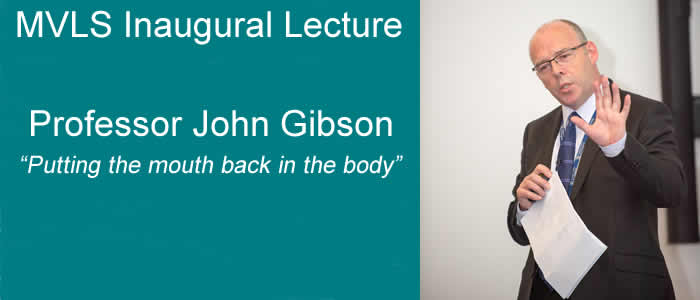 Professor John Gibson, recently appointed to the Chair of Medicine in Relation to Dentistry, delivered his inaugural lecture as a part of the MVLS College inaugural lecture series on Friday 25 July. He shared the lunchtime event, held at the Wolfson Medical School Building, with Professor Sean Grimmond, recently appointed to the Chair of Medical Genomics at the Institute of Cancer Sciences.
John Gibson graduated in both Medicine and Dentistry from the University of Glasgow, where he also completed his PhD on the condition known as Orofacial Granulomatosis and undertook his specialist clinical training in Oral Medicine. Following posts at the Edinburgh Dental Institute, NHS Education for Scotland and Dundee Dental Hospital & School, John has returned to this new role at his alma mater, where he also holds an Honorary Consultant contract with NHS Greater Glasgow & Clyde.
In his lecture, John covered clinical, teaching and research aspects of his previous roles and his aspirations for the future in the exciting new post he now occupies. His wide-ranging lecture included references to many social as well as scientific concepts, identifying the critical importance of dealing with inequalities and the importance of re-aligning dentistry within the medical fraternity, from which in recent years it has become to a degree separated.
His excellent lecture was very warmly received and triggered a lively debate with the audience. If you would like to watch and listen to Professor Gibson's lecture, it can be viewed either by the video on this page, or our Echo360 lecture recording system.
---