Glasgow Student Wins Top Award
Issued: Wed, 16 Jul 2014 16:23:00 BST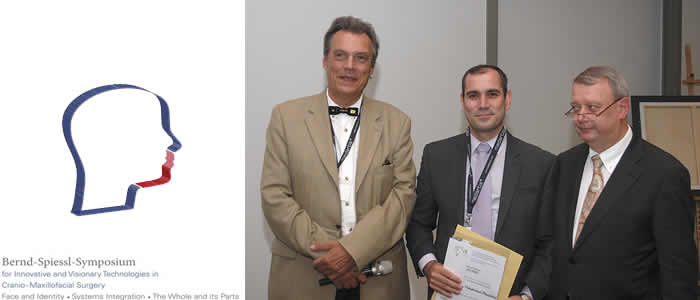 Glasgow Dental School third year PhD student Anas Almukhtar won the Bernd-Spiessl Award for Best Student Poster at the 10th International Bernd-Spiessl Symposium for Innovative and Visionary Technologies in Cranio-Maxillofacial Surgery
The competition was held on the third day of the symposium, and featured a presentation shortlist of 11 posters from Brazil, Germany, France, Switzerland, Italy and the UK, with Anas achieving two posters in the shortlist. A detailed presentation delivered to the jury and general audience was followed by an in-depth Q&A on each poster before a winner was finally decided.
Anas reacted with joy to the award, "I am so proud that I achieved the Bernd-Spiessl award for the best student poster for this year. "
The Symposium was this year celebrating its 10th anniversary. The unique theme of Art and Science attracted a multi-speciality group of presenters and a varied audience including surgeons, psychologists, orthodontists, computer scientists and the unique presence of artists. Around 300 delegates attended the symposium from many parts of the world including the USA, Brazil, China, India, in addition to European countries including Italy, Germany, Holland, Belgium, France, and the UK.
A variety of subjects were presented including innovations in surgical technologies such as a robotic arm theatre assistant, robotic laser surgical cuts, surgical navigation, and augmented reality technology for orthognathic surgery. There were also two art presentations delivered by a German painter and surgeon who were interested in musical concerts.
Further information can be found on the Symposium webpage http://www.bernd-spiessl-symposium.com/
---