Conference - Violence Makes You Ill
Issued: Mon, 19 May 2014 15:03:00 BST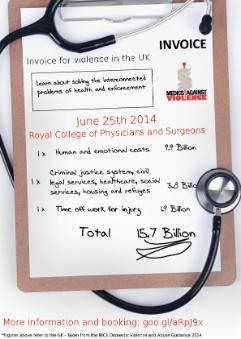 Violence Makes You Ill , the inaugural conference from Medics against Violence will bring together a diverse group of speakers to talk about violence. We want to explore the effect of violence on health, how the health sector can help to reduce violence and how partners in health, justice and other sectors can work together to reduce not only violence but injury. We will tell you what we are doing to contribute to the reduction in violence in Scotland but also what others have been doing.
The conference will be held in the Royal College of Physicians and Surgeons Glasgow on the 25th June 2014
Speakers include:
Karyn McCluskey, Director of the Scottish Violence Reduction Unit
Iain Livingston, Deputy Chief Constable, Police Scotland
Linda de Caestecker, Public Health, Greater Glasgow and Clyde
Paul Gray, Scottish Government
Phil Conalglen,Public Health, NHS Lothian
Adrian Boyle, Emergency Medicine, Addenbrooks Hospital, Cambridge
Mark Devlin, Oral and Maxillofacial Surgery, Greater Glasgow and Clyde
Michael Murray, Neuroanaesthetics, Greater Glasgow and Clyde
Christine Goodall, Oral Surgery, University of Glasgow
Lindsay Thomson, Forensic Psychiatry, University of Edinburgh
---
For booking please contact Isabel or Milton on
isabel.davis@vruscotland.pnn.police.uk
or 0141 532 5816.
Alternatively you can book on the website:
http://www.medicsagainstviolence.co.uk/content/violence-makes-you-ill
or on Eventbrite http://www.eventbrite.com/e/medics-against-violence-conference-violence-makes-you-ill-tickets-11588516565?aff=es2&rank=1