Dental School Professor Commended by Students
Issued: Thu, 01 May 2014 15:31:00 BST
The Student Representative Council held its annual Student Teaching Awards 2013/14 ceremony on the 14th March. Nominated this year from the Dental School was Professor Ashraf Ayoub in the category of "Best Undergraduate Supervisor". Although he was runner up on the day, he was highly commended by the SRC judging panel.
The Student Teaching Awards are an annual event run by Glasgow University Student Representative Council. All nominees are nominated by students from across the University with the SRC making the shortlist and deciding the winners. This year saw a total of 750 nominations, covering 354 unique staff in 14 categories.
This is the third consecutive year that students from the Dental School have staff nominated for the awards, with wins during 2012/13 in the Best Student Advisor and Best Overall Subject Area for Mr. Mike Broad and the Year 3 Orthodontics programme respectively. In the year 2011/12 the Dental School also had 2 nominations, with Gordon Ramage runner up for Best Research Supervisor, and the Prosthodontics programme runner up in the Best Subject Area category.
Full details can be found on the Student Teaching Awards web page. http://www.glasgowstudent.net/events/stas/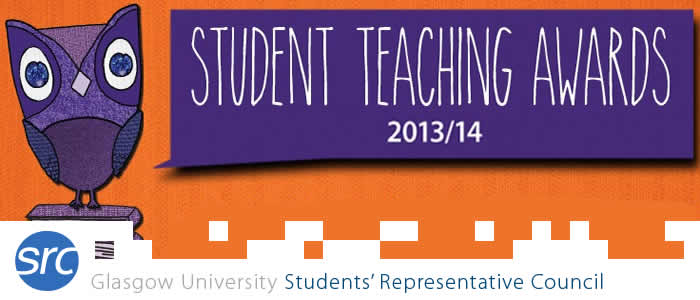 ---