'Attentive Writers': Healthcare, Authorship, and Authority
Medical Humanities Research Centre, University of Glasgow, 23-25 August 2013
Conference Committee: Dr. David Shuttleton, Dr. Gavin Miller, Dr. Elizabeth Reeder, and Dr. Megan Coyer
Conference Venue: Sir Charles Wilson Building, University of Glasgow
Dates/Times: Friday 23 August (9am-6pm); Saturday 24 August (9am-6pm); Sunday 25 August (10am-2pm)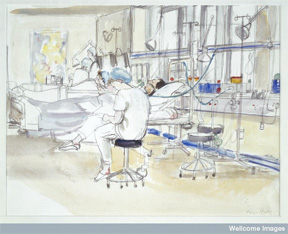 From nurses, physicians and surgeons to administrators, caregivers, technicians, veterinarians and voluntary sector workers, this conference adopts the term 'attentive writers' as evocative of the multitude of both non-professional and professional caregivers – clinical and non-clinical healthcare workers – whose attention to illness might take narrative form. The study of physician-writers was one of the earliest developments in the related fields of Literature and Medicine and the Medical Humanities, with canonical figures such as Conan Doyle, Goldsmith, Keats, Smollett, and William Carlos Williams, receiving much-deserved critical attention. Echoing Rita Charon's concept of 'attentiveness', this conference brings this established field of enquiry regarding 'the physician as writer' into dialogue with recent calls for a more inclusive approach to the Medical Humanities (i.e. 'Health Humanities') and questions the authoritative place of the Western – traditionally male – physician in our explorations of the humanities/health interface.
The relationship between healthcare, authorship and authority will be addressed through three inter-related strands of thematic enquiry: (1) an historical and literary examination of 'attentive writers'; (2) a more devolved interrogation of the field of Narrative Medicine; and (3) an examination of 'attentive writing' as creative practice.
Plenary Speakers:
Professor Rita Charon (Columbia University): 'To Write is to Undergo'
Professor Paul Crawford (University of Nottingham) : 'Treating fictions: Are patients real?'
Professor G. Thomas Couser (Hofstra University): 'Vulnerable Subjects: Caveat Scriptor'
Darryl Cunningham: 'Cartooning, Creativity, and Mental Health'
Papers might address, but are not limited to, the following topics:
Nurse-writers, physician-writers, surgeon-writers, veterinarian-writers, etc. of any culture, historical period or literary epoch, and/or nurses, physicians, surgeons, and vets as literary subjects
Non-clinical healthcare workers (adminstrators, janitors, technicians, etc.) as writers and/or literary subjects
The literature of caregiving
Gender and medical authority
Historical development of medical and literary professionalism
The afterlife of Foucault's 'medical gaze'
Hybrid discourses and genres (the case history, illness narratives, etc.)
Narrative Medicine (and, particularly, does it challenge or reinforce the notion of physician as sole author/authority) and related developments in professionalism and education
The philosophy of attentiveness in healthcare and creative writing
'Attentive writing' as creative practice; including 'process oriented' writing practices and those primarily concerned with the creation of aesthetically valuable outcomes.
For Creative Writers: We're particularly looking for papers and readings from creative writers in all genres whose writing is rooted in questions about, experiences of or research into issues of illness, caregiving, and medicine. We are also interested in how creativity may be impacted by any of these. We're particularly interested in discussing how our subjects, genres, research and craft exist in tension and help to produce expansive and important contributions to literature. For the most part, these contributions should move beyond writing as reflection, to literary writing that complicates and communicates knowledge and experiences of issues currently falling within the frame of medical/health humanities.
Updates: There are a limited number of places still available for those wishing to attend the Attentive Writers conference as delegates. If you would like to book one of these places, please return the Attentive Writers Registration Form to the address given by 16th August 2013. The full delegate registration fee is £65, and there is a discounted rate for students/unwaged individuals of £35. These rates include refreshments throughout the conference (lunches, teas and coffees, and a wine reception). There will also be a conference dinner on the 24th of August which will cost £35. If you wish to attend the conference dinner, please remember to indicate as such on your registration form, and pre-payment is required in advance with your registration fee.
**Plenary Lectures**: We are now opening the four plenary lectures to those who have not registered for the full conference. Dates and times for these lectures can be found on the . Entrance to each of the lectures will be £10 (£5 for students/unwaged), payable at the door. There is no need to book in advance for these lectures.
Any queries may be directed to: arts-attentivewriters@glasgow.ac.uk