Voyages of the Imagination - Friday 18 October, 4pm-6pm, in the Edwin Morgan room, 101 (ground floor) 5 University Gardens
Published: 16 October 2019
Fantasy, Reality and a Book Launch of The Summer Isles: A Voyage of the Imagination by Philip Marsden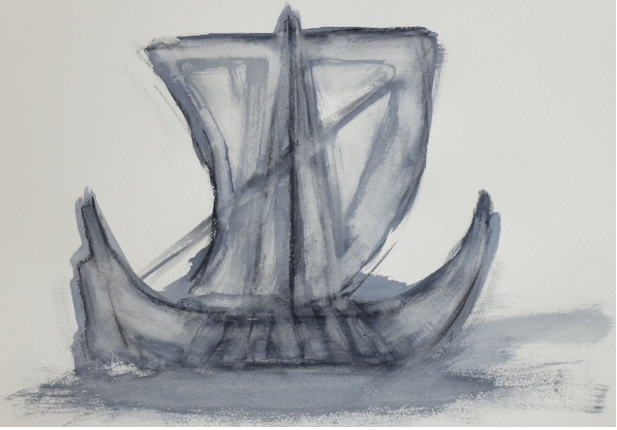 Dr Dimitra Fimi, Lecturer in Fantasy and Children's literature, presents a short film on the voyage of St Brendan and its creative reshaping in the fantasies of Charles Kingsley, C.S. Lewis and J.R.R. Tolkien; Louise Welsh, Professor of Creative Writing, will deliver a short presentation on travel and violence in journeys in her own fiction and opera; Alan Riach, Professor of Scottish Literature, will introduce The Birlinn of Clanranald, the great sea-voyage poem that crosses from Scotland to Ireland; and Philip Marsden introduces and reads from his new book, The Summer Isles.
This may be of special interest to students of Scottish Literature, English Literature and Creative Writing, Theology and Religious Studies, Celtic and Gaelic. All students and staff most welcome.
The Summer Isles
A Voyage of the Imagination
By Philip Marsden
The Summer Isles, the small group of Scottish islands off Scotland's north-west coast, captivated writer Philip Marsden when he and his aunt looked upon them from the tops of the mountains they loved to climb. Now, decades after his aunt's death, he sets sail in a beautiful wooden boat from his home in Cornwall, up the west coast of Ireland, through the Hebrides, to reach those islands of his imagination.
Sailing single-handed, he tackles the full force of the Atlantic, hopping from island to island exploring the islands' role in early Irish and Scottish history. Through the people he meets, he learns the stories and songs, myths and legends of these precarious places, and about their place in the Celtic tradition. The role of mythical islands like Hy-Brasil and Tir na-nÓg endures – still capturing the imagination and fulfilling the timeless need for imaginary places.
Travelling in the wake of the adventurers, monks and saints who went before him, this is travel writing at its very best – about a journey as ancient as time, and the places that exist in the mind.
On Rising Ground:
"He has built a reputation as one of our most thoughtful travel writers. Mythology, remembered personal history, and defined patterns of landscape, all merge to produce a powerful composite picture of what it really means to be in a place." Giles Foden, Condé Nast Traveller
"An extraordinary, complex and fascinating book […] about the human endeavour
to make meaning of life." Justin Cartwright, Spectator
"A truly wonderful and enjoyable book." Jan Morris, Literary Review
'A superb "search for the spirit of place" which takes Cornwall as its focal terrain, and the idea of sacred landscape as its subject." Robert Macfarlane
---
First published: 16 October 2019
When
Friday 18 October, 4pm-6pm
Where
Edwin Morgan room, 101 (ground floor)
5 University Gardens