Professor Sarah Churchwell (School of Advanced Study, University of London) - Wednesday 13 March, 5.15pm
Published: 26 February 2019
The Gordon Lecture in American Studies 2019 - "Behold, America: A History of America First and the American Dream"
The Gordon Lecture in American Studies 2019
"Behold, America: A History of America First and the American Dream"
Professor Sarah Churchwell (School of Advanced Study, University of London)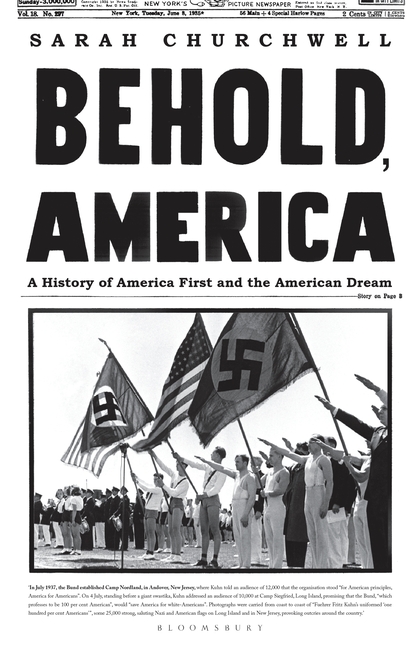 ‌
The 'American Dream' and 'America First' are two of the most familiar phrases in America today, and also two of the most misunderstood. The American Dream began as an exhortation to democratic and economic equality, not individual success, while America First emerged as a nativist, white-nationalist term that was much more influential in American history than has previously been recognized. In this talk, Professor Sarah Churchwell traces a genealogy of these powerful two expressions, revealing how both were born nearly a century ago and instantly tangled over capitalism, democracy and race, coming to embody opposing views in the battle to define the soul of the nation.
Professor Sarah Churchwell is one of the UK's most prominent public intellectuals and cultural critics. A specialist in American literature and culture, she appears regularly on current affairs and cultural programmes such as Question Time and Newsnight, and writes for national and international newspapers such as The Guardian and Financial Times. She has judged many literary prizes, including the 2014 Man Booker Prize, and was a 2015 recipient of the Eccles British Library Writer's Award.
Sarah holds a professorial post at the Institute of English Studies, which is part of the School Of Advanced Studies (SAS) at the University Of London, where she is the first ever Chair in Public Understanding of the Humanities. The School's mission is to promote the role the humanities research plays in strengthening and enriching democratic society, and Sarah's role is to lead in its strategies and activities for engaging with public audiences outside of academia. As part of this work, she leads and coordinates the Being Human festival, a nationwide annual festival which celebrates humanities research across the UK in order to help us "understand ourselves, our relationships with others, and the challenges we face in a changing world".
In 2005, Sarah published The Many Lives Of Marilyn Monroe, in which she explored the many different narratives that framed the Hollywood legend (from sex goddess and innocent child to 'dumb blonde' and liberated woman) and what these myths tell us about American and Western attitudes towards women and fame. In 2013 she published Careless People: Murder, Mayhem and the Invention Of The Great Gatsby, which tells the story of the real events that inspired F. Scott Fitzgerald's masterpiece, while also highlighting its connections to America today. Her latest book, Behold, America, was published in 2018. Behold, America was a Guardian and Smithsonian Book of the Year, a Sunday Times, Observer and I-Paper Summer Read, reviewed as 'enormously entertaining' by the Sunday Times, 'fascinating' by the New Statesman and 'enthralling' by the Guardian.
---
First published: 26 February 2019
Where
Yudowitz Seminar Room, Wolfson Medical School Building, University Avenue
When
Wednesday 13 March, 5.15pm