Simon Carlyle and Gregor Sharp - Monday 19/11/18, 13:00 - 14:00
Published: 15 October 2018
Simon Carlyle (Boy Meets Girl, Benidorm, Bad Education) and Gregor Sharp (No Holds Bard, Piano Lessons, Fran's People) are co-writers and creators of BBC 2's successful sit-com Two Doors Down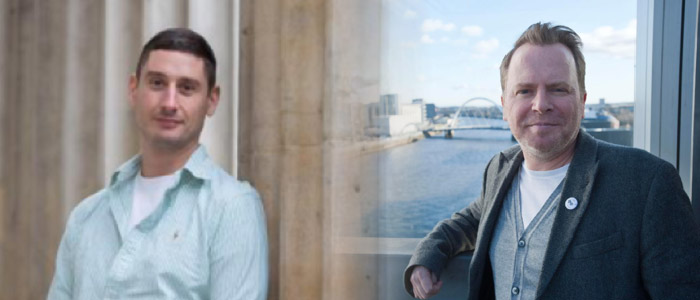 Date: Monday 19 November 2018
Time: 13:00 - 14:00
Venue: University of Glasgow Memorial Chapel
Category: Public lectures
Speaker: Simon Carlyle and Gregor Sharp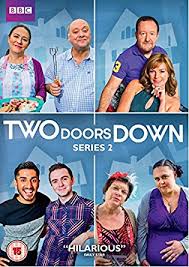 Simon Carlyle (Boy Meets Girl, Benidorm, Bad Education) and Gregor Sharp (No Holds Bard, Piano Lessons, Fran's People) are co-writers and creators of BBC 2's successful sit-com Two Doors Down, filmed in locations around Glasgow and at BBC Scotland's Dumbarton studios.
'We tried to create a rolling sense of calamity. Two Doors Down has a mix of chat and also more traditional jokes and some physical comedy too. I think that in these sorts of family units, no matter how hard the men try, it's always the women's voices that prevail . . . My writing partner, Gregor Sharp, brought discipline, knowledge and a capacity for making jokes to the writing process for Two Doors Down. I brought change for the vending machine, colourful anecdotes about my time as a transvestite bartender in Soho, London and a hearty supply of duty-free cigarettes to help the process along.' Simon Carlyle@Simoncarlyle
'Two Doors Down is about a bunch of people who all live on the same street; it's about how sharing problems can sometimes make them worse rather than better, how the downside of friendship is obligation, and what to do if you leave your freezer door open all night. Comedy rarely has enough female leads and while Two Doors Down is definitely an ensemble piece, Beth, Cathy and Christine are all formidable in their own ways. They are all quite no-nonsense people and not backwards about coming forwards, so sparks do sometimes fly . . . I was brought up on a street like Latimer Crescent, where all the kids played together and the parents would take it in turns to go round to each other's houses for parties and social occasions. There was always a fair amount of gossip from those sorts of affairs and the New Year parties were particularly eventful. The characters in Two Doors Down aren't really based on anyone in particular. I'd say they're amalgams of people we've known over the years, so hopefully no one will be too offended!' Gregor Sharp@bluntasatack
As part of the on-going Creative Conversation speaker series, TV co-writers Gregor Sharp & Simon Carlyle come to campus to chat about their writing. Bring your lunch and burning questions!
Sponsored by the Ferguson Bequest and programmed by Creative Writing at University of Glasgow.
---
First published: 15 October 2018