Software
EMU
Sensimetrics
Multispeech
Elan
PRAAT
PRAAT is a program for speech analysis and synthesis that was created by Paul Boersma and David Weenink at the department of English Phonetics of the University of Amsterdam. The program is regularly improved, therefore new versions of PRAAT are constantly updated on its website. PRAAT works best with mono signals, but stereo signals can be opened and played. This software requires a basic understanding of the elements of a speech signal and how this is represented.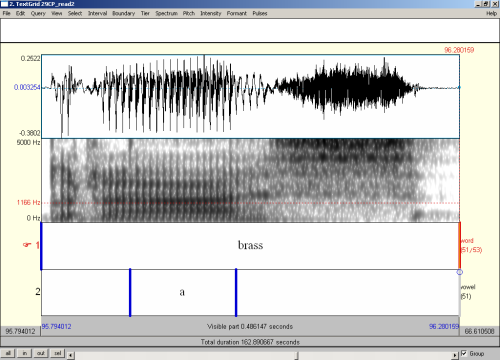 Software
EMU
Sensimetrics
Multispeech
Elan
EMU
EMU is a collection of software tools for the creation, manipulation and analysis of speech databases. At the core of EMU is a database search engine which allows the researcher to find various speech segments based on the sequential and hierarchical structure of the utterances in which they occur. EMU includes an interactive labeller which can display spectrograms and other speech waveforms, and which allows the creation of hierarchical, as well as sequential, labels for a speech utterance. The program is free and regularly updated, for download and documentation see the EMU database webpage. Following figure demonstrates an EMU window with segment labels, speech signal with formants, f0 and energy.
‌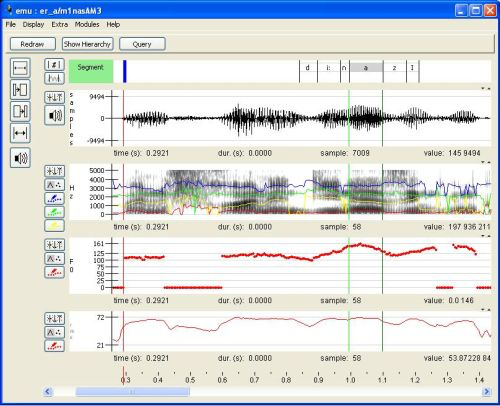 TRANSCRIBER
Transcriber is a tool that assists manual annotations of speech signals. It is widely used for the annotation of broadcasting scripts, and from speech language researchers. It allows the segmentation, transcription and labelling of a speech turn, topic change etc. Transcriber creates time aligned transcriptions and also allows the time aligning of script/sounds that already exist separately. Thanks to the snack library most standard audio formats are read in Transcriber. Also the transcription can be released in XML for easier automatic processing and exchange.
Manual [1]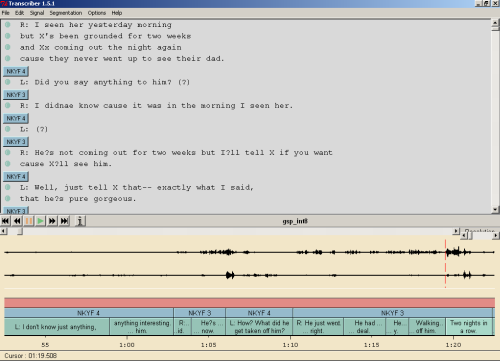 AUDACITY
Audacity is a free software for recordings and sound editing. This software is available for most computer's platforms and you can use it to record live audio, convert tapes and records into digital formats, edit Vorbis, MP3, Wav and AIFF formats, cut, splice and mix sound files. It also allows you to improve the sound quality of the recordings and some simple spectral analysis.
Manual [1]