Professor Simon Gay
Head of School (Computing Science)
telephone: 01413306035
email: Simon.Gay@glasgow.ac.uk
https://orcid.org/0000-0003-3033-9091
Biography
Professor Simon Gay is Director of Research in the School of Computing Science, and Leader of the Formal Analysis, Theory and Algorithms Section.
He joined the School of Computing Science as a Lecturer in 2000, becoming a Senior Lecturer in 2006 and a Professor in 2015. Before coming to the University of Glasgow he was a Lecturer in Computer Science at Royal Holloway, University of London, and before that, a Research Associate in the Department of Computing at Imperial College London. He has an MA in Pure and Applied Mathematics and a Diploma in Computer Science, both from the University of Cambridge, and a PhD in Computing from Imperial College London.
Professor Gay's main project is "From Data Types to Session Types: A Basis for Concurrency and Distribution (ABCD)", funded by the UK Engineering and Physical Sciences Research Council (EPSRC) from 2013 to 2019.
Personal website: http://www.dcs.gla.ac.uk/~simon
Research interests
Professor Gay's research concerns two main areas. The first is programming languages: the study of the theory, design and practice of the languages in which computer software is designed and coded. He is particularly interested in designing programming language features to make it easier for programmers to develop software that relies heavily on communication - for example, communication between computers and devices across the internet.
Professor Gay's other research interest is quantum computing, especially the development of techniques for verifying the correctness of systems that combine quantum and classical computation and communication.
Personal website: http://www.dcs.gla.ac.uk/~simon
Publications
Selected publications
All publications
Grants
Current projects:
Past projects:
Chair, COST Action IC1201: Behavioural Types for Reliable Large-Scale Software Systems (BETTY) October 2012 - October 2016.
QNET: Network on Semantics of Quantum Computation (EPSRC EP/E00623X/1) September 2006 - February 2010 (jointly with Ian Mackie EP/E006833/1).
QICS: Foundational Structures in Quantum Information and Computation (EU FP6 STREP) January 2007 - December 2009.
Engineering Foundations of Web Services: Theories and Tool Support (EPSRC EP/E065708/1) December 2007 - November 2010 (jointly with Nobuko Yoshida EP/F003757/1 and Kohei Honda EP/F002114/1).
Quantum Computation: Foundations, Security, Cryptography and Group Theory (EPSRC EP/F020813/1) January 2008 - December 2010 (jointly with Andrew Duncan, Peter Ryan, Sarah Rees, Sam Braunstein, Mark Lawson, Mark Kambites).
Behavioural Types for Object-Oriented Languages (EPSRC EP/F037368/1) January 2008 - June 2008 (visiting fellowship for Antonio Ravara).
Typed Programming Languages for Communicating Object Systems, funded by the Treaty of Windsor Programme (a joint scheme of the British Council in Portugal and the Portuguese Council of University Rectors).
Novel Type Systems for Concurrent Programming Languages, funded by the EPSRC
Types for Concurrent Programming, funded by the Nuffield Foundation
Supervision
Voinea, Laura
Programming Languages and Tools with Multiparty Session types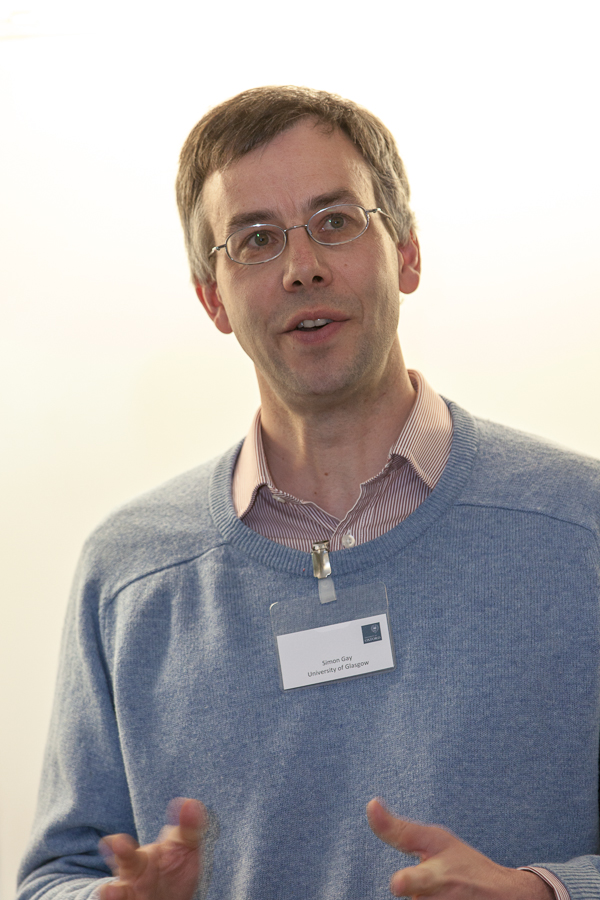 Room S161A, School of Computing Sc, SAWB, University of Glasgow, Glasgow, G12 8QQ