Diversity and inclusion activities
Code First Girls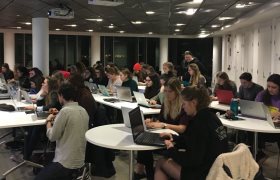 Since January 2018, the School has hosted a weekly session of the codefirst:girls coding club. This is a free coding course for undergraduate students who are not currently studying computing. The current cohort includes students from the following schools: Business School (10); Humanities (6); Culture & Creative Arts (5); Mathematics & Statistics (2); Social & Political Sciences (2); Physics & Astronomy (2); Critical Studies (1); Veterinary Medicine (1); Psychology (1); Engineering (1); Chemistry (1).

The photo shows the first codefirst session at Glasgow, in January. Students are being helped with their first coding exercise by tutors Jess, Zeshan, Rhiannan and Fergus.
Find out more at www.codefirstgirls.org.uk
GU SWiTCH + A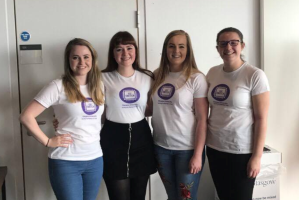 GU SWiTCH + A (Glasgow University Society for Women in Tech + Allies) was founded in July 2017 and is a society for women in Computing Science/technology. It aims to provide a friendly environment for women to interact through social, career and academic events. So far, the society has organised a number of events - for example, the celebration of Ada Lovelace Day in October, a pub-quiz in December and a mini-hackathon in February. The society currently runs through a Facebook group which can be found at www.facebook.com/groups/guswitch/.
Ladies of Code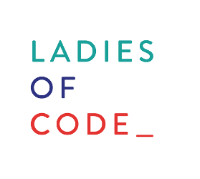 The Ladies of Code Glasgow meetup group (https://www.meetup.com/Ladies-of-Code-Glasgow/) holds a monthly event at the School of Computing Science, usually Tuesday evenings 1830 - 2100 hours. The group has been running since 2016. Between 20 and 40 people turn up for most meetings, with a range of backgrounds and experience levels. The group is very friendly and informal, always welcoming new members. Recent topics have included Clojure programming, Raspberry Pi hacking, and Career conversations.
GWiCS - Glasgow Women in Computing Science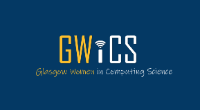 The Glasgow Women in Computing Science group (GWiCS) is open to all University of Glasgow staff and students (female / non-binary / male) from Undergraduate level to Chancellor and everywhere in-between. However, our focus is on research level CS upwards.
We hold monthly meet ups, talks and information sessions by leaders in academia and industry, as well as providing a supportive network for new PhD students and early career researchers. Please see the GWiCS Facebook Group or the GWiCS X account for more information on our upcoming events.
For further information, please contact Fani Deligianni, Shaun Macdonald, or Tanatta Chaichakan.
Ada Scotland Festival - Gender balance in Computing Science
Dr Matthew Barr (University of Glasgow, School of Computing Science), Dr Ella Taylor-Smith (Edinburgh Napier University) and Toni Scullion (dressCode) founded the Ada Scotland Festival in 2020, with support from Anna Doyle (School of Computing Science Employer Liaison Officer). The Festival unites organisations and networks involved in improving gender balance in Computing Science education across Scotland. The festival was launched on 13 October 2020 – to coincide with Ada Lovelace Day. Since then it has been engaging over thousands of participants from schools, higher and further education, job changers and industry.
PGR mentoring scheme
In June 2017, we started a School-wide mentoring scheme to support PGR students in matters such as their working environment, progression, and work-life balance. This scheme is available to PGR students as mentees and to postdoctoral researchers as mentors. The mentoring however, does not cover English language skills or proof reading the thesis draft or papers, and the mentor is not to be thought of as 'yet another thesis supervisor'.
As mentors, the postdoctoral researchers support PGR students by sharing their knowledge, skills and understanding regarding postgraduate studies and beyond. This enables the postdoctoral researchers to watch mentees progress whilst further enhancing their leadership skills. Currently this mentoring scheme comprises six pairs of mentor-mentees and we are hoping this number keeps growing. A Mentoring Agreement is entered into between each paired mentor and mentee.
For further questions, please contact Ornela Dardha.