Professor David Jackson
Emeritus

(School of Chemistry)
email: David.Jackson@glasgow.ac.uk

Rm A4-42 Level A4, Chemistry, Joseph Black Building, Glasgow G12 8QQ
https://orcid.org/0000-0003-1257-5533
Research interests
Research Interests
The specific research interests in the David Jackson research group lie in six overlapping areas, i) metal catalysed hydrogenation, ii) heterogeneous catalysis in fine chemicals synthesis, iii) catalyst activation and catalyst deactivation, iv) dehydrogenation, v) adsorption, and vi) base catalysis. All of which fall within the concepts of the Catalysis Research Centre set up at Glasgow.
Publication Highlights
"Metal Oxides in Catalysis", Volumes 1 & 2, Wiley-VCH Verlag, 2009. ISBN: 978-3-527-31815-5 (co-edited with Dr. J.S.J. Hargreaves)
Deactivation and Regeneration of Chromia and Vanadia Catalysts in Alkane Dehydrogenation. Current Topics in Catalysis, 9, 15 – 24, (2010). Madurani Edussuriya, S. David Jackson and Sreekala Rugmini.
Synthesis of Methyl Isobutyl Ketone over Pd/MgO/SiO2. Ind. Eng. Chem. Res., 49, 8439–8443, (2010) Jonathan J. Gamman, S. David Jackson and Fiona A. Wigzell.
Using Modifiers to Specify Stereochemistry and Enhance Selectivity and Activity in Palladium-Catalysed, Liquid Phase Hydrogenation of Alkynes. Catalysis Today, (2010), doi:10.1016/j.cattod.2010.10.012 Paloma E. Garcia, Ailsa S. Lynch, Andy Monaghan and S. David Jackson
The Roles of Subsurface Carbon and Hydrogen in Palladium-Catalyzed Alkyne Hydrogenation. Science, 320, no. 5872, 86 – 89, (2008). Detre Teschner, János Borsodi, Attila Wootsch, Zsolt Révay, Michael Hävecker, Axel Knop-Gericke, S. David Jackson and Robert Schlögl.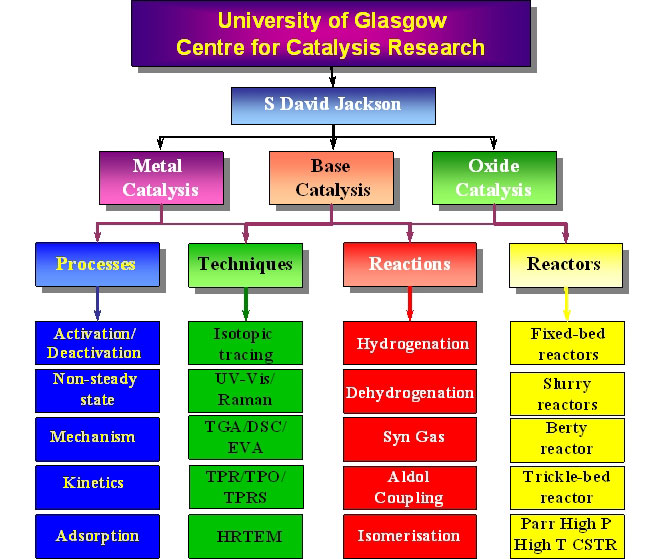 Research units
Publications
Number of items: 101.
2023
2022
2021
2020
2019
2018
2017
2016
2015
2014
2013
2012
2011
2010
2009
2008
2007
2006
2005
2004
2003
2002
2001
This list was generated on Wed Jun 7 19:48:12 2023 BST.
Number of items: 101.
Articles
Book Sections
Edited Books
Conference or Workshop Item
Conference Proceedings
This list was generated on Wed Jun 7 19:48:12 2023 BST.
Teaching
Teaching
Level-1 Science Fundamentals
Level-2 Solid State
Level-3 Heterogeneous Catalysis
Level-4 Homogeneous Catalysis
Research datasets
Number of items: 1.
2020
Matam, S. K., Moffat, C., Hellier, P., Bowker, M., Silverwood, I. P., Catlow, C. R. A., Jackson, D. , Craswell, J., Wells, P. P., Parker, S. F. and Gibson, E. (2020) Investigation of MoOx/Al2O3 under Cyclic Operation for Oxidative and Non-Oxidative Dehydrogenation of Propane. [Data Collection]
This list was generated on Wed Jun 7 19:48:14 2023 BST.
Additional information
Awards
PhD (Glasgow), FRSC
Selected Recent Talks
High Activity Solid Base Catalysts for Alkenyl Aromatic Isomerisation. 22nd North American Catalysis meeting 2011 (Detroit, USA)
Precious Metal Steam Reforming Catalysis: Effect of Sulphur. 9th Novel Gas Conversion Symposium, 2010 (Lyon, France)
Understanding how to Specify Stereochemistry and Enhance Selectivity and Activity in Liquid Phase Hydrogenations. TOCAT6 2010 (Sapporo, Japan)
Stereoselective Synthesis of Alicylic Amines. 23rd Conference on Catalysis of Organic Reactions (ORCS) meeting 2010 (Monterey, USA)
A Comparison of Propanal and Butanal Aldol Condensation and Hydrogenation over Metal/Base/Silica Catalysts. 6th World Congress on Acid-Base Catalysis 2009 (Genoa, Italy)
External Appointments & Positions
Committee Member, Royal Society of Chemistry, Applied Catalysis Group.
Member, Sustainable Technology Advisory Board, CIKTN
Board member, International Acid-Base Catalysis Group, 2009 - .
Member, Chemical Sciences Scotland Innovation Group 2007 - .
Editorial Boards: Catalysis Science & Technology, 2010 - Current Topics in Catalysis, 2007 - Catalysis in Organic Reactions, 2008 Applied Catalysis A. 2004 - 2007