Existing degree programmes
Creative Arts & Industries (new programme)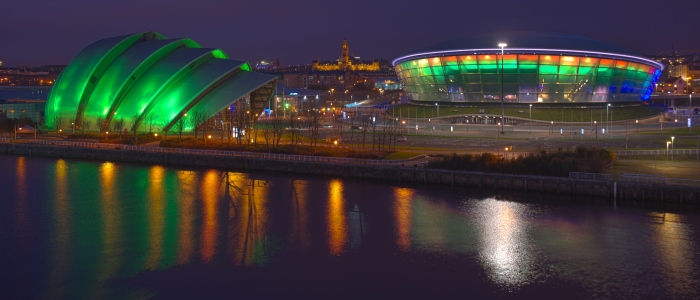 This new undergraduate programme will offer you a unique opportunity to engage creatively and critically with all the artistic fields covered by the School of Culture and Creative Arts: film, television, music, theatre, art and design and digital media.
You will develop the industry awareness, collaborative skills and reflective practice needed to work in the cultural and creative industries.
Career prospects
The programme offers you several opportunities for practical engagement with creative and cultural organisations, enabled through a series of external partnerships, with a grounding in critical thinking and theory.
Glasgow is the creative hub of Scotland, with opportunities to work with production companies, theatre companies, digital agencies, museums, galleries and cultural institutions.
The programme aims to produce graduates equipped with the skills and knowledge to work constructively, creatively, flexibly and ethically in the cultural and creative sector or in the cultural and creative wings of organisations in other sectors.
Background
Digital technologies are reshaping the way that culture is produced, distributed and consumed.
Such developments are not new, but the rate of change, the pervasive nature of digital technology and the importance of cultural industries in our economies and societies mean that these changes are having very wide-ranging social effects.
Traditional questions of how culture is made, by whom and under what conditions remain, as does the question of who benefits - but they are being asked in a new environment.
Programme aims
This programme will equip you with the skills to navigate this new environment by providing:
A wide-ranging understanding of cultural forms and practices. We draw on a range of cultural fields – not limited to media - and this familiarity with specific cultural forms, the links between them and the way they are changing, is a distinctive element of the programme.
An overview of policy, markets and industrial structure that enables you to see your particular passion in a wider social context.
A focus on the ethics and politics of cultural production. The cultural industries are one of the UK's fastest growing sectors, but they are marred by inequalities and exclusions. This programme will give you both an awareness of these issues and the skills to change them.
Practice-based and collaborative learning.
An international approach rooted in a local context.
Programme structure
Year 1
Introduction to Creative Practice
Introduction to Creative Industries
Year 2
Cultural Analysis and Creative Practice
Working in the Creative Industries 1
In years 1 and 2 you will also study other subjects, see Flexible degrees.
Years 3 and 4
Applied Cultural Analysis
Working in the Creative Industries 2
Interdisciplinary Creative Practice
Applied Cultural Analysis 2
You will also produce a dissertation, either on a research topic of your choice, as part of a collaborative placement project or as an independent creative project.
Find out more
Please sign up to our mailing list for the latest on this programme.
Existing degree programmes