Maggie Nicols / Cramb Residency Whatever Arises : 18th-20th May
We are delighted to announce Maggie Nicols as this year's Cramb resident for a series of events, Whatever Arises.
Maggie will be hosting and participating in four events, all taking place in the University Concert Hall between Wednesday 18th - Friday 20th May 2022.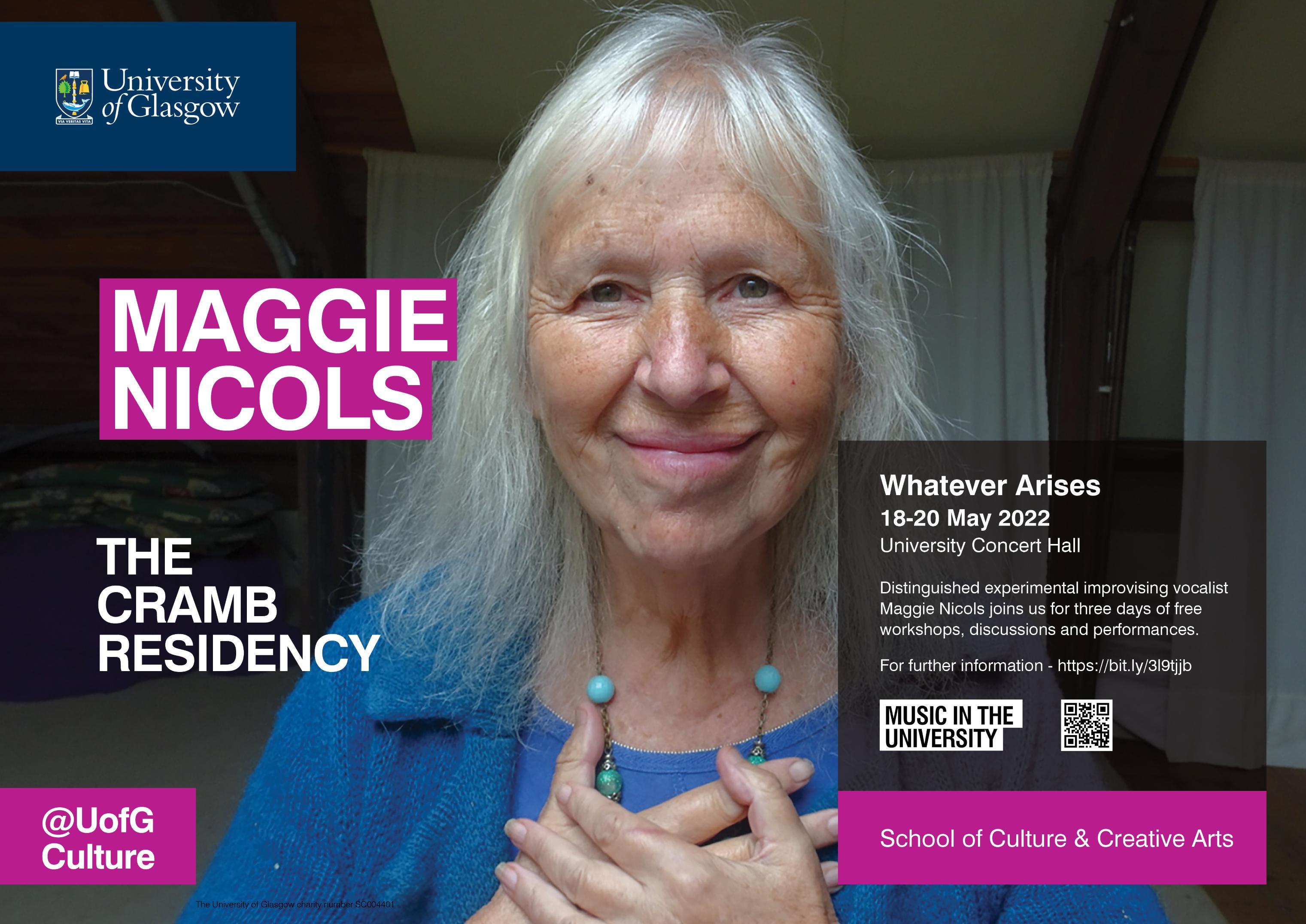 These are a vocal improvisation workshop [The Challenge of Simplicity], an in-the-round discussion [Structure and Spontaneity: in the Arts and in being Human] both on the 18th, a concert [Different Rhythms Together] on the 19th and a one-off iteration of her longstanding creative hotchpotch, The Gathering on the 20th May.
All of the events are free, Eventbrite links and more details can be found on The Cramb Residency pages.
Maggie Nicols has been making music since her work as a singer and dancer in jazz clubs in the 1960s, before going on to collaborate widely around the world as an improviser spanning musical genres and art forms.
By way of examples, she danced at the Moulin Rouge as well as being a member of John Stevens's Spontaneous Music Ensemble and Keith Tippett's Centipede. In the 1970s, she was musically and politically active, including as a member of the Workers Revolutionary Party and the Feminist Improvising Group.
She began The Gathering at the start of the 1990s in London, something that has continued in various places and forms on a semi-regular basis since, bringing together a huge range of like-minded spirits and collaborators from the music, art and theatre worlds.
More recently, she released her first solo album, Creative Contradiction: Poetry, Song and Sound, via Cafe Oto's Takuroku label, recorded during lockdown and released last year. Around its release, she feaured on the cover of The Wire magazine and also on the Radio 3 show, Freeness.
—
The Cramb lecture / residency began in 1923 as part of a bequest to the University by Susannah Cramb. Initially, these took the form of a series of lectures, but in more recent years, the format has chnaged to be a mixture of talks, performances and workshops for both the academic community and wider public.
Previous visitors to the University under the Cramb banner have included renowned composers, journalists and academics including Gustav Holst in 1926, Sir Peter Pears (1961), Aaron Copland (1962), Thea Musgrave (1977), Peter Maxwell Davies (1988), Lydia Goehr (2005) George Lewis (2007), and Susan McClary (2016).
---
First published: 29 April 2022