Building a Centre of Excellence
The University of Glasgow, along with substantial support from its partners and fundraisers, has invested heavily in building new state-of-the-art research facilities. We are deeply grateful to our local community and fundraisers, who offer us such fantastic support.
CRUK Beatson Institute @CRUK_BI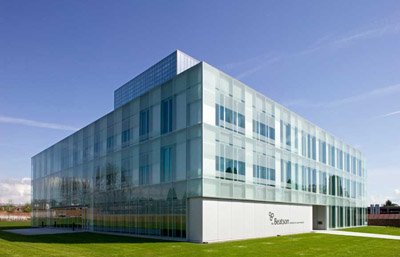 The Cancer Research UK supported Beatson Institute for Cancer Research, located at Glasgow University's Garscube Estate in Bearsden, opened in 2008. This £15M award-winning building comprises four floors of accommodation including research laboratories and support rooms on two main floors, a microscopy suite, lecture theatre, café, administrative offices and a boardroom. The centre houses 240 cancer researchers research scientists and clinicians in world-class research facilities, accelerating the process of understanding the disease, identifying new therapies and bringing them to patients.
Paul O'Gorman Leukaemia Research Centre @POG_LRC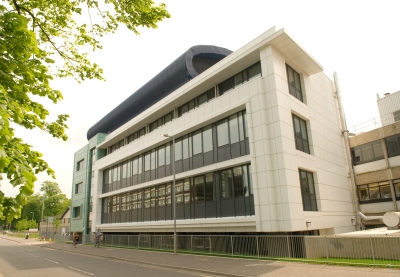 The Leukaemia ResearchCentre, located at the site of Gartnavel General Hospital close to the University of Glasgow and the Beatson Institute, opened in 2008. The key benefits of this centre derive from the proximity of clinical and laboratory disciplines with all components incorporated into a single site. Integration of the NHS and Blood Transfusion Centre offer improved access to blood and bone marrow samples from normal donors and from patients with the full range of blood cancers. The centre is state of the art incorporating the latest research technologies and attracts international leaders in leukaemia research who translate laboratory findings into new medicines for patients. The Centre also benefits from close interactions with the Beatson Institute for Cancer Research and clinical departments of the Beatson West of Scotland Cancer Centre.
The centre was built after a fundraising drive by the University of Glasgow in collaboration with Leukaemia & Lymphoma Research (LLR), which saw more than £2.6million raised in six years, through the commitment and generosity of more than 1800 donors and supporters. Friends of The Paul O'Gorman Leukaemia Research Centre - Support POG
Wolfson Wohl Cancer Research Centre @precisionpanc @GUcancersci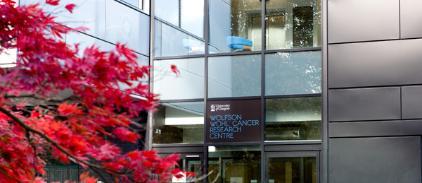 In 2012 the Beatson Pebble Appeal reached the £10m target to build the Wolfson Wohl Cancer Research Centre. The Wolfson Wohl Cancer Research Centre has been built at the University's Garscube Estate, beside the existing Beatson Institute for Cancer Research.
The Centre is a purpose-built, world-class research facility, attracting the stars in cancer research to Glasgow as well as nurturing 'home-grown' expertise. It is a much needed catalyst for accelerating the process of understanding Cancer, improving existing therapies and identifying new ones and bringing them to patients.
Scientists in Glasgow are currently working on ground-breaking research projects that will transform the way patients with cancer are treated. Glasgow is leading the way in developing new precision medicine techniques which aim to treat patients earlier and more effectively. Continued charitable donations will help us to recruit and retain world-leading scientists and fund vital pieces of equipment and technology. More than 3000 generous donors have contributed towards the Beatson Pebble Appeal so far.
Thanks to their support, we are now in a position to develop cancer research even further. For further information on how to contribute to the Beatson Pebble Appeal visit www.beatsonpebbleappeal.org.