Students visit Prague University of Economics and Business
Published: 2 May 2023
Fifteen first-year undergraduate students from the Adam Smith Business School joined our March 2023 study trip to Prague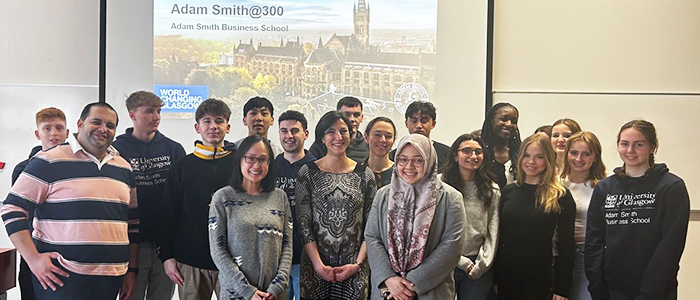 Fifteen first-year undergraduate students from the Adam Smith Business School joined this year's study trip to Prague University of Economics and Business (PUEB) between 26-30 March 2023. The trip was led by Dr Belgin Okay-Somerville (School Director of Internationalisation), Dr Wenya Cheng (Economics, deputy Learning & Teaching lead) and three postgraduate researchers, Elysha Ramage (Economics), Novika Grasiaswaty (Management) and Ramy Sherief (Accounting and Finance).
During the first day of the study trip, students attended lectures delivered by Professor Martin Pelucha (Vice Dean for Research at Faculty of Economics) on the Czechia context of the EU policymaking, and by Dr Helena Chytilova (Vice Dean for International Relations) on student life in Prague University of Economics and Business. Lectures were followed by a campus tour led by PhD students from Prague and a visit to the Prague National Museum, Franz Kafta rotating head and the Dancing House.
On the second day of the trip, the group delivered a workshop celebrating Adam Smith Tercentenary during PUEB Innovation Week 2023. Following an introduction to the Adam Smith Business School by Dr Belgin Okay-Somerville, undergraduate students delivered short presentations on 'Life in Glasgow', 'Life in the Adam Smith Business School' and 'the Adam Smith Legacy in the Adam Smith Business School'. PhD students discussed their research projects and life as a researcher in the Adam Smith Business School. The second half of the session focused on Smith's legacy in our practice and was delivered by Belgin Okay-Somerville, Wenya Cheng and Theo Koutmeridis (who was a visiting scholar in PUEB at the time).
The group visited the Czech National Bank on the third day. During this visit, they learned about how the central bank works, how money was created, how it evolved and how the financial system developed in parallel. They also had the opportunity to see the Europe's largest gold coin (second largest in the world) in the vaults of the Czech National Bank. This visit was followed by a tour of the Prague Castle and a river cruise.
The trip was a unique opportunity for our students to experience the Czech culture. The PhD researchers also had an opportunity to meet with academics who are working in their field to build networks and research connections. We are grateful to PUEB for their hospitality and are looking forward to working more closely in the near future.
---
Further information: Belgin.okay-somerville@glasgow.ac.uk
First published: 2 May 2023