Teaching at Cochno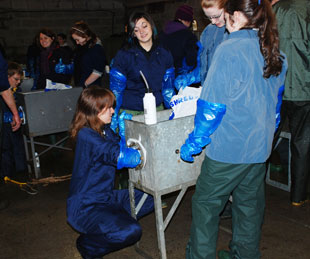 Students enrolled in the Bachelor of Veterinary Medicine and Surgery (BVMS) and BSc Veterinary Biosciences receive extensive instruction at Cochno. Pre-clinical and clinical teaching is facilitated and the farm is specially adapted for veterinary teaching. Practical teaching takes place at various units within Cochno Farm and Research Centre, while seminars, small group teaching and lectures are held within Cochno House.
Students receive extensive practical and clinical instruction in:
All aspects of modern production animal management and husbandry (dairy, beef, sheep)
Animal handling and restraint (cattle and sheep)
Pregnancy diagnosis and obstetrics, including the use of 'phantom lambers'
Herd and flock health planning and management
The site also provides a key field teaching resource for the School of Life Sciences, and other groups within the University (e.g. Astronomy and Geology).