Cochno House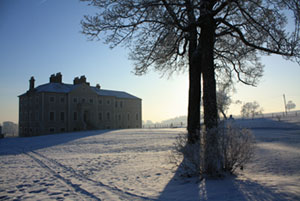 Within the estate of Cochno Farm and Research Centre lies Cochno House, a deep-plan, seven-bay pavilion roofed mansion of classical distinction reputedly designed by John Adam and built for the Hamiltons of Barns and Cochno in 1757. The pedimented two-storey and basement facade has a slight over-scale Roman Doric porch, and there is a central splayed projection with balustrade parapet to the souoth. It was extended with a lowe kitchen block in 1842.
In recent years the house has been used extensively for teaching, small conferences, workshops, seminars and accommodation for students and visiting researchers. The house and surrounding grounds have also served as a filming location for popular programmes such as Taggart and Rebus, as well as the film Regeneration, which was based on the novel by Pat Barker revolving around the soldier-poet Siegfried Sassoon. The grounds are also used periodically by Strathclyde Police (Dog Branch) and Strathclyde Fire and Rescue for training purposes.
The house was refurbished throughout from 1992 to 2003. In 2009 whilst carrying out essential repairs to the roof it was discovered that dry rot was evident throughout almost the entire house and it has not been used extensively since. The dry rot has been treated and it is hoped a programme of refurbishment will be reviewed over the next few years. In the summer of 2011 the basement of the house was extensively refurbished and now has the following resources:
Lecture theatre (capacity 30)
Boardroom
Two small group study rooms
Internet / Wifi access throughout
Four changing / cloak rooms (total capacity 70)
Toilet facilities
Kitchen facility
History of Cochno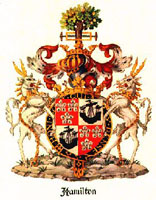 As early as the middle of the 16th century, Cochno was the seat of a family of a branch of the Hamilton family who traced their descent from the noble house of Hamilton in Lanarkshire.
Between 1550 and 1647 the lands of Barns & Cochno were owned by two separate arms of the Hamilton Family, but by 1647 the two had become united after a series of landsales.
Hamilton of Barns and Cochno
Sir John Hamilton, 4th of Cadzow - married Jacoba, daughter of Sir James Douglas of Dalkeith, and had, with other issue, Thomas Hamilton, who had a son James.
James Hamilton - was granted a charter in 1441 of the lands of Raploch by his cousin. He was succeeded by his son William, William 2nd of Raploch who married Margaret Bailie, daughter of the Laird of Lamington. His descendant, Gavin Hamilton, 9th of Raploch, granted to his son Claud the lands of Bornis and Culbowie.
Claud Hamilton, 1st of Barns - he was admitted a Burgess of Glasgow in 1639, and married before 1618, Catherine Knox, of the family of Silvieland, County Renfrew. He died Sept. 1632 having had issue, Claud (who die without issue in 1642), James, who scceeded his father, Richard, who succeeded his brother and Jean who married 3rd May 1636, James Forsyth, minister of Kilpatrick.
James Hamilton, 2nd of Barns & Cochno - matriculated from Glasgow University in 1662. He deponed the fee of the estate to his brother Robert, and the heirs-male of his body, 15th June 1635 before journeying overseas. He died without issue, 16th March 1672 and was succeeded by his brother Robert Hamilton.
Robert Hamilton, 3rd of Barns - had a charter of the lands of Easter and Wester Cochno, now the family seat, from James, Earl of Abercorn in 1647. He married, first in 1644, Mary, daughter of Walter Macaulay of Ardencaple, and secondly in 1663, Anne, daughter of John Brisbane of Brisbane. He matriculated arms at the Lyon Office between 1672 and 1677 and was succeeded by his eldest son, Claud.
Claud Hamilton, 4th of Barns - was Sheriff Depute and a Commissioner of Supply of the county and sat in Parliament as its representative 1683 and 1689-1702. He married first a lady whose name is unknown and secondly in 1670, Anne Stewart, daughter of Sir Walter Stewart of Allanton, County Lanark. He died circa 1704 and was succeeded by his son of the first marriage, Robert.
Robert Hamilton, 5th of Barns - matriculated from Glasgow University 1698 and was a Commissioner of Supply in 1706. He died shortly after 1714 and was succeeded by his half brother James Hamilton.
James Hamilton, 6th of Barns - matriculated from Glasgow University in 1714, was Commissioner of Supply for County Dumbarton 1715, was admitted a burgess and Guild-brother of Glasgow. He married 1714, Grizel, daughter of Jacharias Maxwell of Blawatthill and sister of Sir John Maxwell of Pollok and was succeeded by his eldest son, Claud.
Claud Hamilton, 7th of Barns - major of Marines, who served at the siege of Cartagena. He died unmarried on February 1770 and was succeeded by his brother John Hamilton.
John Hamilton, 8th of Barns - admitted a Burgess and Guild brother of Glasgow in 1738, who married Marion, daughter of John Bryson of Craigallan in County Stirling and had issue: John and Claud who married Elizabeth, daughter of John Bardin of the Colony of Rhode Island and left issue: John who died unmarried and Claud, merchant at Mizaport, Bengal. Claud died unmarried in 1863 having settled his property on his nephew, Claud Brown, with a request that he would assume the surname Hamilton. (Claud was the son of Grace Hamilton who married Archibald Brown, merchant in Glasgow, son of John Brown, of the family of Brown of Crofthead).
James Hamilton, 9th of Barns - was the elder son of Claud Hamilton Brown, afterwards, Claud Hamilton, Hamilton of Barns. He was Major Commandant of Dumbartonshire Yeomanry, married Eleanor, daughter and co-heir of John Dunn of Tannochside County Lanark. He died in 1833 and was succeeded by his surviving son, James Hamilton.
James Hamilton, 10th of Barns - married, Margaret, daughter of Hugh MacLean of Coll and died on 26th August 1852 without issue. He was succeeded by his sister, Grace Hamilton.
Grace Hamilton, 11th of Barns & Cochno - died unmarried on April 1887 and was succeeded by her cousin, Claud Hamilton Hamilton.
Claud Hamilton Hamilton, 12th of Barns & Cochno - J.P. for the county and J.P. for Dumbarton and Edinburgh. He married, Eleanor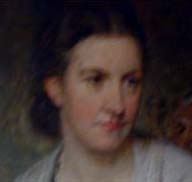 Margaret, daughter of Henry Walters of Batheaston, Somerset and had issue, Grace, died on Nov. 1935, Jane, died 1865, Marion, died 1848. He married second in 1874, Honourable Henrietta Anne Bruce (died 27th January 1911) and was the sister of Lord Balfour, 6th of Burleigh. Claud died 1900 leaving issue: Robert Bruce, Claud Archibald Mackenzie Bruce, Nora Jane Bruce Hamilton, married 12th April 1899, Rev. William Alexander Carrol, vicar of Bickley, Kent and died April 12th 1919, leaving issue, Anne Henrietta, died in infancy, Catherine Claudia Bruce, Married, 8th August 1918, Capt. John Colin Howard Lindsay, R.N., D.L, 5th son of William Alexander Lindsay, K.C., Windsor Herald of Deer Park Devon.
Claud Archibald Hamilton, 13th of Barns & Cochno - J.P. Late Lieut., 3rd Batt. Argyll and Sutherland Highlanders. Temp Lieut in the army 1914 - 1920. Born 16th July 1883. He married 4th October 1916, Mary Elizabeth Marjory, only daughter and heir of the late Maj. Alastair Bruce Murray of Touch-Adam and Polmaise, Co. Stirling (from whom he obtained a divorce, 1924) and had issue: Elizabeth Pamela, Gavin Alastair, Anthea Jean.
The information above was very kindly supplied by Elizabeth Hamilton. Elizabeth was born in 1917 and stayed in Cochno House. She left when she was five to go and live at Polmaise Castle.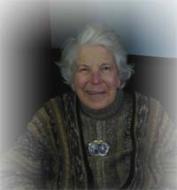 Elizabeth Hamilton taught watercolours and weaving at The Glasgow School of Art. In April 2002 she presented one of her watercolour paintings to Cochno House where it takes pride of place above the fireplace in the first floor living room.
Elizabeth Hamilton's grandfather (Claud Hamilton), his second wife Hon. Henrietta Anne Bruce and two of their children, Nora and Anne Henrietta were originally buried in a small graveyard, sheltered in a wood on Cochno Estate.
Romans
The Distance Slab from the Antonine Wall was found on Cochno Estate and donated to Hunterian Museum Glasgow University in 1695.
Translated as "For the Emperor Caesar Titus Aelius Hadrianus Antoninus Augustus Pius, Father of this Country, a detachment of the Twentieth Valerian and Victorius Legion, completed........feet (of the wall)"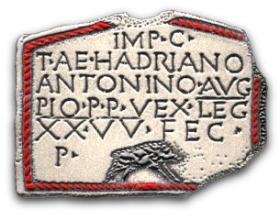 Distance Slabs
These inscribed stone markers called distance slabs record the sections of wall completed by each of the three Legions (II, VI and XX) stationed in Britain during its construction in AD 142-144.