The Zoonoses in Emerging Livestock Systems (ZELS) programme launches in Tanzania.
11th December 2014 - The Zoonoses in Emerging Livestock Systems (ZELS) programme was officially launched today at the Nelson Mandela African Institute of Science & Technology (NM-AIST) in Arusha, N. Tanzania, and was attended by members of the Institute involved in the programme.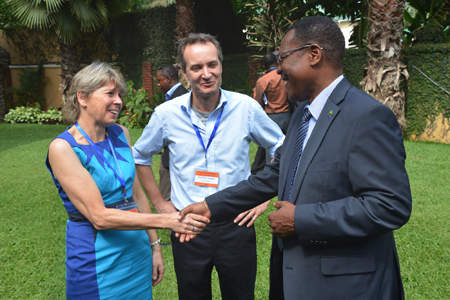 Prof. Sarah Cleaveland (left) greets Hon. Dr Titus Kamani (right), with Prof. Dan Haydon (centre). More images via our Facebook page.
ZELS, which was launched last month in the UK, is a £20.5M programme of research and training to tackle diseases that could pass from animals to humans funded by the UK Research Councils and UK Department for International Development.
Members of the Institute lead three of the ZELS projects based in Tanzania: SEEDZ - Social, Economic and Environmental Drivers of Zoonoses in Tanzania, which will look at factors affecting transmission of zoonotic pathogens from livestock to people (led by Professor Sarah Cleaveland and Professor Jo Sharp); HAZEL - Hazards Associated with Zoonotic enteric pathogens in Emerging Livestock meat pathways (led by Prof Ruth Zadoks); and Brucella—a capacity building project to examine which animal hosts and transmission routes are most important for human disease risk in different agro-ecological settings, working with Tanzanian government scientists charged with developing brucellosis control policy in Tanzania (led by Prof Dan Haydon & Dr Jo Halliday).
Launch
The launch in Arusha was hosted by NM-AIST Vice Chancellor Professor Burton L.M. Mwamila, who was joined by the guest of honour Hon. Dr Titus Kamani (MP), Minister for Livestock & Fisheries Development.
In an address, Hon. Dr Kamani commended the ZELS initiative and its One Health approach, and also spoke about ebola and the daily reminder of the dangerous potential of zoonoses.
The Vice Chancellor said,
"Ahmed Zewail, a Nobel Prize winner from Egypt has observed, 'If we work on research topics that the West is not interested in, we will always be 20 years ahead. If we work on topics that the West is interested in, we will always be 20 years behind.'
One Health is a priority for both the North and the South, but we come at this from different directions. African countries have a valuable and important opportunity to develop integrative approaches to human and animal health as our national medical and veterinary capacity matures.
The diversity of Tanzanian landscapes and our rich variety of livestock keeping practices mean that we are uniquely well positioned and equipped to conduct this research, and to benefit from it. We can light the path for others to follow. By working on research that is of importance and priority to Africa, we have an opportunity to become world leaders in One Health research - this has been demonstrated by the well-recognised leadership that Tanzanian researchers have shown in the field of zoonoses and ecosystem health.
The ZELS program and the assembled international partners present here today provide an exciting opportunity for us to take this several steps further."

Further reading on one health
Open access article: Halliday et al. (2015) Endemic zoonoses in the tropics: a public health problem hiding in plain sight. Vet. Record. 176, 220-225. doi:10.1136/vr.h798
---
First published: 11 December 2014