Members of the Tanzania Commonwealth Games Team visit the Boyd Orr Centre
‌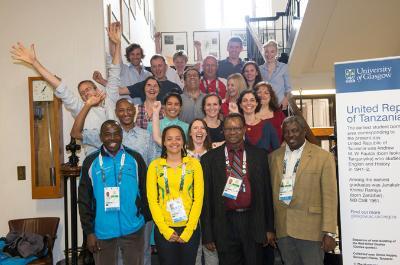 On Friday 1st August researchers from the Boyd Orr Centre for Population and Ecosystem Health took great pleasure in hosting a lunch for a visiting delegation from the Tanzanian Commonwealth Games team. The Boyd Orr Centre is an interdisciplinary research centre that focuses on the study of environmental, human and animal health with an aim of combating infectious diseases. Much of this work involves collaborative research on tropical diseases in partnership with Institutes from endemic settings in sub-Saharan Africa; with a particular focus in Tanzania.
Dr Heather Ferguson: "Having enjoyed many years of interaction and friendship with the people of Tanzania, who have made us feel so welcome in their home, we were delighted to extend a hand to members of the Tanzanian Commonwealth team, and make them feel welcome in our home."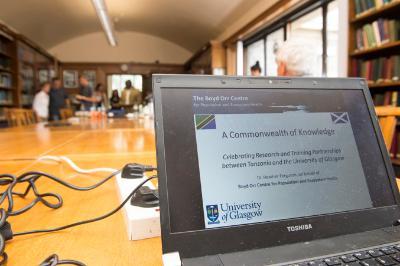 Joining the Boyd Orr Centre researchers were Mr Leonard Thadeo, the Chef du Mission of the Tanzanian Commonwealth Games Team, and Director of Sports Development in the Tanzanian Ministry of Information, Youth, Culture and Sports; Dr Juma Mwanandi Mwankemwa, Tanzanian Commonwealth Games Team Doctor and Chairman of the Tanzanian Special Olympics and Tanzanian Special Needs Sports Association; Ms Magdalena Ruth Alex Moshi, freestyle swimmer and Health Sciences student at the University of Adelaide; and Mr. Zaidi Khamisi, the Judo coach for the Tanzanian team.
‌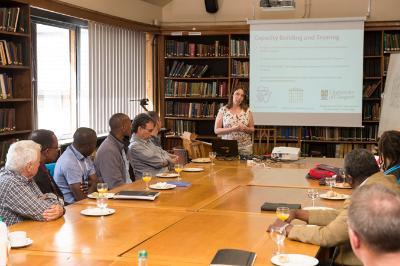 Dr Heather Ferguson, a malaria researcher who works in southern Tanzania, gave a brief overview of the Centre's research activities in Tanzania. These include collaborations on bacterial zoonoses (diseases that can be transmitted from animals to humans), antimicrobial resistance, malaria mosquito control, foot-and-mouth disease, rabies elimination, and conservation.
‌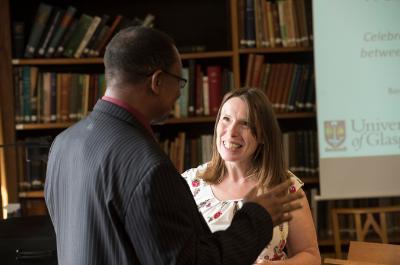 Over lunch there were many discussions about health research in Tanzania, and the value of sport and health education. The point was echoed by Mr Thadeo, who described the efforts of the Tanzania Football Federation to champion the war against malaria, using football as a vehicle for engaging and educating both players and public on how to avoid and control the disease. Glasgow researchers were particularly delighted to hear of Ms. Moshi's current work on malaria and her plans for future research in this area; all the more impressive given that she is combining her studies with an internationally competitive career.
Ms. Moshi said, "The short time I spent with at the University is one of the highlights of my time in Glasgow. I was blown away by the work the Centre does and so touched that people so far away care so much about my country".
The meeting highlighted the common ground we all share, and provided new connections for future health advocacy work in Tanzania. Above all it was an enjoyable afternoon with an opportunity for camaraderie, not least of which was when the judo coach, Mr. Khamisi, allowed Dr Ferguson to dig out her old Judo outfit and practice a few moves; all in the spirit of the 'friendly games'.
Related links:
---
First published: 1 August 2014